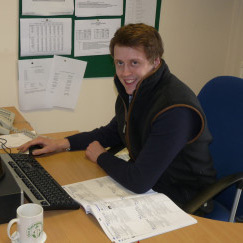 Ben Swarbrick
- Equine Insurance
Ben had ridden over 60 winners from 1,000 rides as an apprentice from 2002 to 2007 before deciding to make his career switch.
JETS HELP:
Ben approached JETS early on with the idea of taking a degree to help prepare him for a career in the business world. We were able to help him realise his ambitions through a JETS scholarship.
THE RESULT:
Ben graduated with a BSc in Psychology from Leeds University and went on to become JETS' first ever candidate to go through the BHA Graduate Development Scheme. In January 2011, he started as a Racing Assistant at the Ascot-based offices of the Racecourse Association. In February 2014 he moved to work for the XL Insurance group as an Underwriting Assistant.
COMMENTS:
Ben: "I really enjoyed my work at the Racecourse Association but XL is a global company and offers me fantastic career progression opportunities."
March 2014