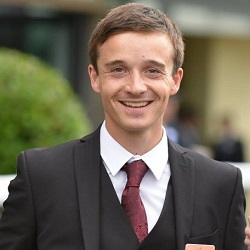 George Chaloner
- Assistant Racecourse Manager
Former Royal Ascot winning jockey George Chaloner had a tough 2017, coming to terms with his career ending injury. After riding 137 winners, including the Northumberland Plate and Wokingham handicap, two consecutive falls at Wolverhampton and Newcastle spelt the end of a successful career for George. Now, after announcing his retirement, he has begun an Assistant Manager role at Pontefract Racecourse.
What factors led to you deciding to retire from the saddle?
I was lucky enough to have some many great years in the saddle. However, as many jockeys know once you lose your claim it's like starting out again. Unfortunately for me, a couple of months after I had lost my claim I had a bad fall and spent a good bit of time on the side lines recovering. Getting going again was a struggle, and although having a decent season, I suffered another time lengthy injury towards the end of 2016. Having my first ride back in the February of 2017, and sadly not completing the race, I broke my back and my foot. I now have 27 screws, many strips of metal in various parts of my body. With doctors advice that I shouldn't ride again, as I was millimetres from being paralysed, I decided enough was enough. Accepting that I wouldn't ride again took me to a new low but with support from JETS, PJA and the IJF eventually my mindset changed and I began to discover new ideas for careers.
Did you think about or begin to train for a second career whilst still riding?
The idea of a second career was always at the back of my mind whilst riding, although I didn't know what it would be. However, I made good use of JETS training whilst off injured.
Which skills that you developed as a jockey, do you think helped you secure the job with Pontefract Racecourse?
Whilst riding I developed several skills that I didn't realise I had until the time I had to apply them to something other than being a jockey:
• Time management skills
• Ability to be able to talk to people from many different backgrounds
• Diplomacy and tact
• Decision making
• Professionalism
How did you find the interview process and putting together your CV for the first time?
Like many jockeys, I went straight from school in to racing and had never put together a CV before. At first it was an extremely daunting task but having the support from Lisa on what to put in and how to word my CV was invaluable. When I went for my interview at Pontefract Racecourse I was extremely nervous, and like the process of putting together my CV, I had never had the experience of a formal interview before. However with the help from JETS via media and mock interview training, I was aware of the process ahead. Little tips such as having my feet firmly on the ground and having questions to ask the interviewer in the back of my head helped settle the nerves and I would advise any jockey to take up this training before going for a job interview.
What are you most looking forward to about your second career?
The challenge of the job, learning new skills and making it into a successful career. I am so excited about being able to contribute to the team at Pontefract Racecourse and make a difference to the racecourse.
Do you think jockeys prepare enough for a second career whilst still riding?
I think the younger generation of jockeys are starting to think about a second career as it has been put forward to them from the start. However, the older generation of jockeys I feel are set in their ways and probably find it harder to adapt.
Did you seek help from JETS whilst on the side lines?
Yes, especially this last year I have used JETS a lot. They have been a big help and without them I would still be going around in circles now.
What advice would you give any aspiring jockeys today?
Any aspiring jockeys coming into the industry from a young age need to look at the bigger picture apart from riding aspect as you never know what is going to be around the corner. There is plenty more to racing than just riding horses.