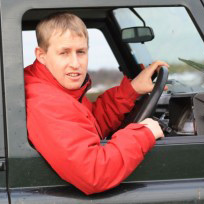 Aaron Bateman
- Instructor (British Racing School)
Former Conditional from 2000 to 2004, Aaron Bateman, had been working as a Head Lad for Evan Williams following a period where he trained at his own yard in Somerset. He moved on for family reasons and was looking for a new challenge.
JETS help:
Career consultations with JETS made Aaron realise that he would like to pass on his skills to others and so JETS suggested he contact The Racing School and helped him to make a professional approach and application.
The Result:
Aaron was appointed as an Instructor at the British Racing School at the end of 2011.
Comments:
Aaron: "I left school at the age of 16 having never sat on a horse but with aspirations of becoming a jockey, so know what it takes to reach that goal. I did not attend the BRS Foundation Course myself, but I was lucky that when I started my career I had great people around me to learn from and I hope I can pass my past experiences on to the students here at the Racing school," ends Aaron.
Rory Macdonald, BRS Chief Executive: "Aaron has a wealth of experience in racing as a jockey and as a trainer. It is therefore fantastic that this experience is being capitalized to help train the young people coming into racing through The British Racing School; and we are very grateful to JETS for their part in this".
July 2012