Newmarket Jockey Turned Farrier wins top prize at Richard Davis Awards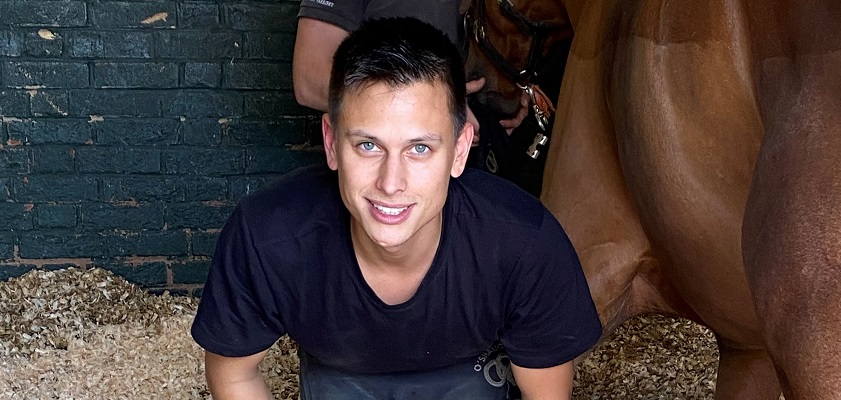 Former Flat jockey, Jordan Vaughan (28) has won the top prize at the JETS Richard Davis Awards which marks its 25th anniversary this year. The £3000 Jockey Club Achievement Award rewards the career development Jordan has made since 2017 when he stopped riding and decided to work towards a second career as a farrier.
Jordan is now a fully qualified Farrier based with O'Shaughnessy Farriery in Newmarket, having completed a four year Apprenticeship course, supported by JETS, at Warwickshire College. He has worked extremely hard combining his practical work in many of Newmarket's top racing yards with his studies whilst also riding out to gain extra income during his apprenticeship.
Acknowledging his second career, Jordan said:
"I'm so proud to have won this Award, all the evenings spent studying, taking part in competitions and practicing in the forge have been worth it. I know for a fact I wouldn't be here without JETS who have helped fund my courses and make this positive change to my life. I love using all the different skills I've learned to help horses in different ways and be a part of improving their performance in whatever field of equestrianism is their specialism."
Lisa Delany, JETS Manager, said:
"The judges were so impressed with what Jordan has achieved in his second career. Having not studied anything since school, he showed huge dedication to the theory side of farriery and was the only student to achieve a Distinction along with a prize in recognition of his excellent exam results.
"It's really satisfying, especially in this 25th anniversary year, to see a former jockey who's now back working within the racing industry and thriving in his second career."
Former Amateur and IJF beneficiary Ryan Withey (27) has won the £2000 IJF Progress Award. A serious foot injury made Ryan re-evaluate his future and through the support of JETS and the IJF, he has pursued a second career in equine dentistry. He is now working towards his qualifications and is based with Equine Dental Services South West.
The BHA Development Award, worth £1000, is exclusively for current jockeys and this year's winner is Conditional Thomas Willmott (22), based with Sue Smith in West Yorkshire. Thomas rode 17 winners last season, his most successful to date. As well as showing huge progress in his riding through his work with his jockey coach, improving his nutrition and fitness, he's developing a dual career as a funeral director. When off injured, he used JETS to begin his qualifications and he's gaining experience by working for a company in Scotland when his riding allows.
The winners were announced on Racing TV on Wednesday 9th November and will receive their trophies at a special presentation at Cheltenham Racecourse on Friday 11th November.
JETS first hosted the Richard Davis Awards in 1997 in memory of jockey Richard Davis who had started planning for his future before he tragically lost his life in a race fall in 1996. The annual awards highlight the career development of both former jockeys and current jockeys and showcase the services provided by JETS to help jockeys prepare for their futures in order to secure a successful transition from riding.