MEDIA TRAINEES SHELLEY BIRKETT AND JASON KIELY REFLECT ON THEIR EXPERIENCE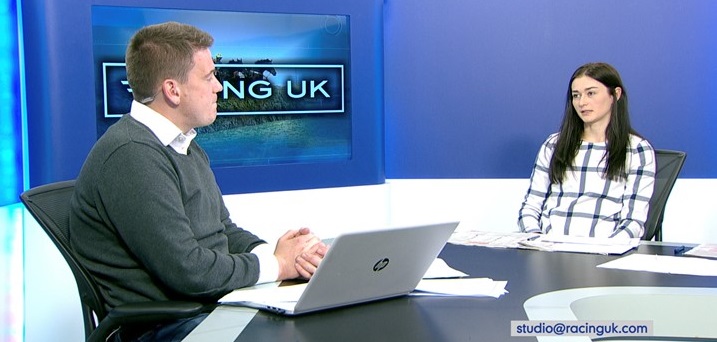 JETS was delighted to partner with Friends of JETS Racing UK early in 2016 to introduce a ten week media traineeship for jockeys. The aim was to give jockeys an in depth overview of the media industry and help the successful applicants to build some useful skills and experience to help them in their futures. The two successful candidates were Apprentice Jockey Shelley Birkett (23) and Jason Kiely (26) a former Conditional jockey who now works for Tim Vaughan. Here they reflect on their experience of the traineeship and how it has benefitted their careers:
What made you apply for the RMG traineeship?
SB: I have always been interested in the media side of things since becoming a jockey and the traineeship was the perfect stepping stone for me to begin to think about a career in the media. I enjoy giving interviews and was really keen to develop my skills in front of the camera.
What aspects of the traineeship have you most enjoyed?
SB: Every aspect has been interesting, and I have learnt plenty in every department I have been spending time in. Going into the traineeship, I was looking forward to learning more about the punditry roles, so I enjoyed that week, especially going to Ascot when I shadowed Tom Stanley and Steve Mellish. I was able to wear an earpiece and listen to the team back in Ealing direct the presenters. Going out on shoots with the Assistant Producers to several stables and then back into the edit suites to put the shows together was also fascinating.
JK: I have enjoyed all the aspects of the traineeship, and some more than others. In particular, I have enjoyed the production of the "This Racing Life" programme, plus the chance to be a pundit on the channel.
What did you choose as your specialist area to focus on?
SB: I chose to continue in Victoria with the marketing and PR teams. But the course allows plenty of flexibility, so I am also able to continue shadowing assistant producers on filming days and start a bit of punditry when the Flat racing at Kempton is on.
JK: I decided to focus on trying to learn what an assistant producer does day to day. It was great fun and all new and exciting.
What aspects have been most challenging?
SB: Obviously going into the traineeship, I knew very little about the ins and outs of Racecourse Media Group and Racing UK, only what I have seen on the channel and on course. So, the first few days in each new department was quite confusing for me trying to work out how everything works and what different roles people play.
Have you learnt anything surprising during the traineeship?
SB: The most surprising thing I found was when I was with the social media team, and I discovered to what extent social media plays in marketing companies. The time, expense and thinking that goes into what will be posted and where was quite astonishing and I am much more aware of what I am being shown on social media as a result.
JK: I have been really surprised with how many people are involved in getting racing on our screens every day. I used to just think it was a case of taking a camera and a presenter to the course and away you go.
Are there any skills you've developed as a jockey which have helped you in the trainee role?
SB: The main skill I have developed as a jockey which has helped me in the trainee role is probably the ability to analyse a race and form and make comment on a horse's performance after the race. That was vital when shadowing presenters in the studio and on course.
JK: Determination to succeed has come into play. There were a couple of long and challenging days, but compared to things like falls and severe dieting it all seemed manageable.
What has been the reaction from your friends in the weighing room about doing the traineeship?
SB: The reaction from colleagues in the weighing room has been quite positive, especially as the course is new and unique. I think JETS have done a fantastic job at getting jockeys to think about life out of the saddle.
JK: Everybody I have met from the weighing room has been quite positive and some are even almost jealous of my time on the traineeship. It's a great initiative and I've been lucky to be the first of many I hope.
How hard has it been to juggle your riding career and doing the traineeship?
SB: I am very lucky in that the two main trainers I ride for, David O'Meara and Julia Feilden, completely understand that I needed to take time out to do the traineeship, so I juggle my rides around the course, only really riding at weekends or evening meetings. Although the traineeship allows me time off whenever I ride, it is a very quiet time of the year anyway, so my riding career has not been affected too much.
Do you think enough jockeys focus on their second careers whilst riding?
SB: From when I started out as a jockey you never thought there was any need to prepare for life after retiring from the saddle, because you would be so intent on being the best jockey you could be, and were worried that people would think you're not completely dedicated if you are thinking about other career options. Life as a jockey is so hectic that there isn't much time to be proactive about starting another career, but as you progress through your career and make more contacts in different areas within racing, it becomes much easier to think about a second career.
JK: Focusing on our second careers is always a scary thought because you think racing will go on forever, but that's life and eventually our riding days will stop. It's important to look ahead.
Is there anything you'd wish you'd done differently in terms of your career development?
SB: At 23 years of age I think I am at the right stage of my career to be thinking about further development, I am also lucky that I am fairly light so can take time out of my riding to focus on career development and then return to the saddle when suits.
What are your ambitions for the future?
SB: In terms of my riding career my main aim is to ride out my claim, so is currently need 12 more winners. Looking ahead to the future, I hope this course stands me in good stead to pursue a career in the media, and if that doesn't happen then at least I will have gained valuable skills during the course that I can use in other areas of the sport.
JK: Quite simply I would love to get even more involved in the media side of things either as a presenter/pundit or even a commentator, but I have age on my side and am just happy to get a chance.
Why would you recommend the traineeship to others?
SB: I would highly recommend the course to any former or current jockeys who are looking to improve their media skills and gain a whole range of new ones. There is no other course that offers such an insight into one of the leading media players in the sport.
JK: I would definitely recommend it, especially as it opened my mind to some areas that even I didn't know I would enjoy. It's been great fun also, they are a great team and it didn't take long for me to feel part of that.
What is one piece of advice you would pass on to jockeys starting out in their careers now?
SB: My main piece of advice would to be aware of the fact that a jockey's career is very short, and unless you are in the very small percentage of jockeys who have a long and successful career, you are going to have to move on eventually, so the sooner you can develop other skills the better. You don't want to waste time when you are older training for things you could have done whilst riding.
JK: I would say that while it's important to focus on the riding, there is so much more out there too. But you have got to work hard to put yourself in the best possible position to excel in whatever you feel most confident doing.