Remember, it pays to acquire additional skills whilst you are still riding. Training can be delivered part-time, online or in short bursts during injury time.

Browse this page for upcoming industry courses and details of the range of regular industry and key skills training on offer. If you're interested in doing any training, please Contact Us
Beyond that, your choice is endless. Specific subject courses can be vocational, involve study or build on your existing racing/equine knowledge. JETS can help you identify the right course for you. JETS training grants may be available to help cover the cost of training courses and there's also a Personal Development Grant Scheme for jockeys with less than 50 rides introduced in 2023. Find out more
There is also a list of online and distance learning courses and opportunities further down the page. There is a huge range of courses available online covering a vast number of subjects and at different entry levels.
FORTHCOMING HORSERACING INDUSTRY COURSES

| | | |
| --- | --- | --- |
| 28 -29 Sep | Mental Health First Aid Course Epsom | Racing Welfare |
| 16 Oct | Mental Health Awareness Course Online | Racing Welfare |
| 29 Oct - 03 Nov | Level 2 Racecourse Turf Management | Ground Management Association at The British Racing School |
| 09 - 10 Nov | Mental Health First Aid Course Ascot Racecourse | Racing Welfare |
| 29 - 30 Nov | Mental Health First Aid Course Newmarket The Racing Centre | Racing Welfare |
| 21 - 26 Jan | Level 2 Racecourse Turf Management | GMA Learning at The British Racing School |
| 18 - 21 Mar | Assistant Trainers Course | The National Horseracing College |
| 15 - 17 Apr | Racing Secretary Course | The National Horseracing College |
| 13 - 17 May | Trainers Module 1 | The National Horseracing College |
| 10 - 14 Jun | Trainers Module 2 | The National Horseracing College |
| 15 - 19 July | Trainers Module 3 | The National Horseracing College |
| 04 - 06 Nov | Racing Secretary Course | The National Horseracing College |

REGULAR INDUSTRY COURSES

BHA Industry Overview Seminars
National Stud Education Programme
British Racing School- Trainer Modules/Secretary/All Courses
Northern Horseracing College Courses – Trainer Modules/Admin/All Courses

Groundsmen Courses

Twemlow Stud – Foaling/Yearling Care/AlI Courses


MEDIA TRAINING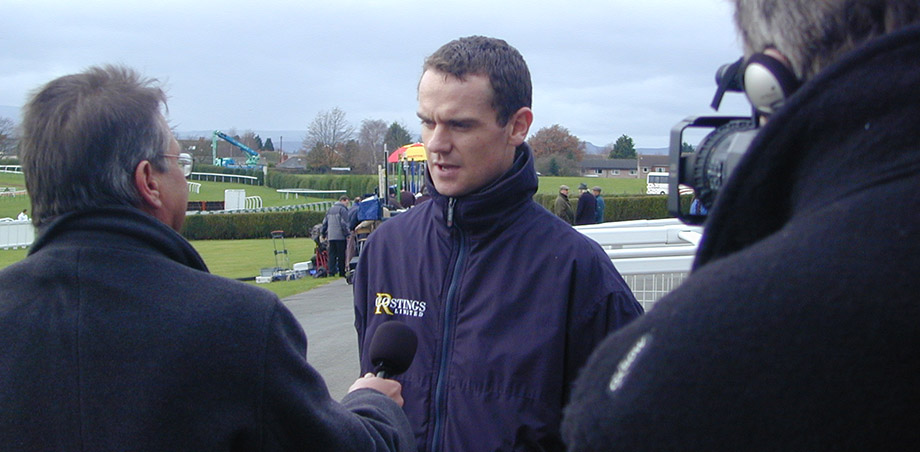 More and more jockeys are appreciating the need to be able to communicate well and build up their media skills – both in order to survive under today's media spotlight and to approach and give value to any sponsors.
If you need help building your confidence and communicating with the media, JETS can help and runs regular media training days around the country – designed exclusively for jockeys. Fees are heavily subsidised for qualifying candidates. Keep an eye on the website and social media channels for dates of forthcoming media courses or contact Lisa and register your interest now.
COMPUTER & IT TRAINING
In today's world you need these for virtually everything you might want to do – from studying the form as a jockey, to business reporting and administration. There is a wealth of computer training available delivered in all sorts of formats and places, so you can fit it easily around quiet or injury times. JETS can help select the right course for you.
ONLINE AND DISTANCE LEARNING COURSES
RACING 2 LEARN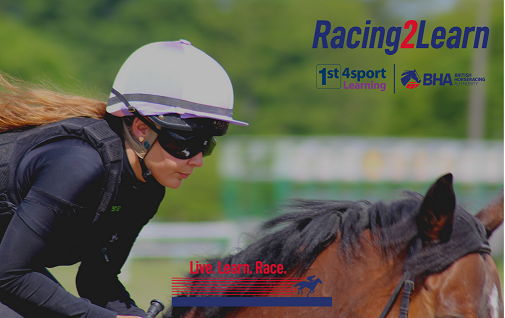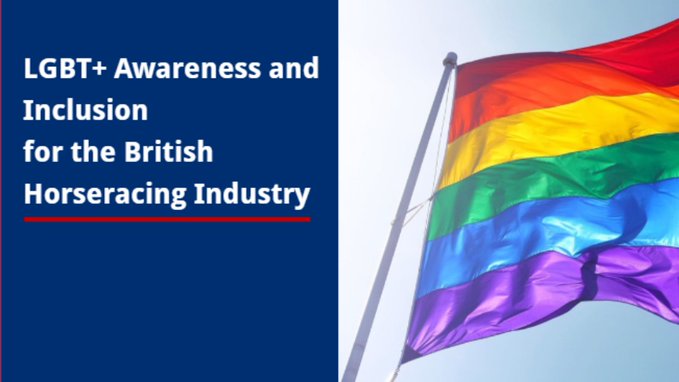 Racing2Learn is the horseracing industry's online learning and development platform, as launched by 1st4sport and the British Horseracing Authority (BHA) in April 2020. The platform aims to educate and up-skill all those involved in the racing industry, encouraging them to be the best they can be, whatever their role.
1st4sport has worked closely with the BHA to tailor it to the requirements of the horseracing industry. It consists of:
• eLearning programmes; some of which carry CIMSPA endorsed CPD points and including the BHA's LGBT+ Awareness and Inclusion e-learning module
• Downloadable learning resources
• A calendar of key dates, including training courses and industry events
REGISTER NOW:
Racing 2 Learn platform (Please note you will need to create an account to fully access the site)
RACEHORSE CARE & MANAGEMENT & RACING ADMINISTRATION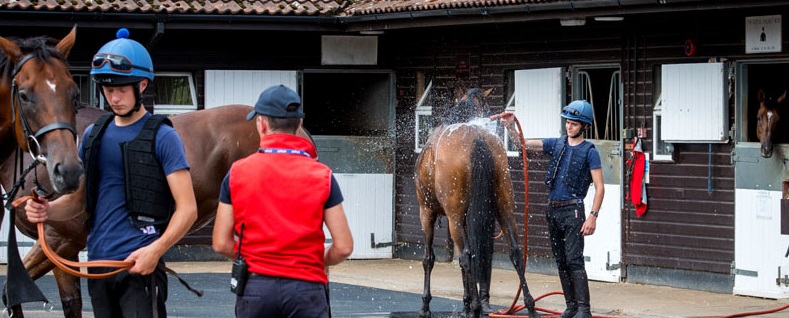 The National Horseracing College, British Racing School and all provide Level 3 Diploma in Racehorse Care & Management. This qualification is particularly useful if you want to continue work with horses after riding either in a riding or non-riding capacity, and is an essential qualification if you are planning on going into training or instructing in the future. The course is online and you build up an online portofolio.
KEY LINKS:
National Horseracing College
British Racing School
Haddon Training
LEVEL 4 LEARNING PROGRAMMES IN THE HORSERACING INDUSTRY
The British Horseracing Authority (BHA) has introduced a suite of eight higher-level training programmes in the horseracing and Thoroughbred breeding industries. These programmes build on the skills and knowledge either gained from lower-level qualifications or by working in the industry and are specific to particular vocational areas of work. The normal cost of each Learning Programme will be £1,500. However, for 2020, a subsidy will be applied so the candidate only pays a registration fee of £100. For further information or to apply please call 01302 861000 or email info@theNHC.co.uk
KEY LINKS:
Level 4 Learning Programmes
HADDON TRAINING
Haddon Training offer a suite of CPD courses that can be accessed remotely from home.
OFFICE SKILLS
JETS uses Pitman Training for a range of office based training, with various qualifications ranging from short one or two day courses to diplomas which take up to a year. They're generally split into modules which make them easy to complete in stages. Subjects include: Business Management, Career Development, IT, Marketing, Microsoft Office, Office and Secretarial, Sage, Accounting & Bookkeeping, Web Design & Photoshop
FINANCE

Kaplan offer a range of distance learning courses. Distance Learning is their most flexible study option, allowing you to study independently in your own time, at your own pace, from anywhere. they provide a range of online and printed learning materials, that are written by their experts, and you'll still get tutor support if you need it.
Subjects include: Accounting, Bookkeeping, Banking and Finance, and Tax
FREE ONLINE COURSES

Open Learn is a brilliant free resource, popular with many sportspeople due to the flexible nature of learning and the different levels available. Subjects include: Health, Sports & Psychology, Education & Development, History & The Arts, Languages, Money & Business, Nature & Environment, Science, Maths & Technology, Society, Politics & Law.
FIND OUT MORE: Open Learn Course Catalogue
The Open University, the most famous distance learning University in the world, offers a range of degree and Higher Education qualifications across a range of subjects. However you can also complete everything from short modules to Certificate courses with the OU. There are no entry qualifications for OU courses. Many of the OU qualifications work as stepping stones, from one stage to the next. They're also valuable in their own right. You could start with a certificate and stop there. Or continue your studies to gain a diploma and then a degree.
Future Learn partners with top international universities and specialist organisations to offer online courses and degrees. The courses are a great way of building your professional skills and connecting with experts with plenty of short courses as well as microcredentials and Degrees available.
ONLINE RESOURCES
You may not wish to gain an official qualification but simply just want to learn how to do things or gain extra knowledge in different areas. Don't forget there are all sorts of practical tutorials especially on YouTube and Instagram in areas as diverse as DIY and Make Up to Computers and Technology. There are also hundreds of educational YouTube channels to explore and multiple Podcast providers offering diverse documentary, sports, comedy, music, history, crime and current affairs content. Finally, you can download books online to read on electronic devices or listen to as audio books.

KEY LINKS:
100 Top Educational YouTube Channels
Kindle
Audible
Apple Books
BBC Sounds
LANGUAGES & MUSIC
Learning a new language is something that can easily be done through distance learning and is a great skill to have in life and to add on to your CV and with racing being an international sport, it can be very useful even if it's just at conversational level. There are numerous language courses aimed at different levels. Likewise, if you've always wanted to learn a musical instrument, online tutorials and lessons can be arranged through various providers.
KEY LINKS:
BBC
Rosetta Stone
Michel Thomas
JOURNALISM
Many jockeys are interested in developing their skills in writing and journalism. The National Council for the Training of Journalists offer a distance learning Diploma. The NCTJ Diploma in Journalism is the qualification that editors look for when recruiting a trainee journalist. This distance learning programme equips learners with the knowledge and skills that journalists need to succeed on the job. It is also ideal for those who want to acquire transferrable journalistic skills. The programme is perfect for those unable to study at an NCTJ-accredited, centre-based course. It provides distance learners with the information and support needed to comprehensively learn about each subject, thus preparing them for the exams. It is not compulsory to sit the exams but students must pass the exams and the portfolio to gain the NCTJ Diploma in Journalism.
The College of Media and Publishing offer a range of writing skills and a more basic journalism course. Their online freelance journalism course trains you to write compelling news and articles for both print and online publications, on a range of topics. This course is an ideal place for beginners to start. It covers all of the journalism basics and teaches you to the basics of a professional freelance journalist.
KEY LINKS:
Diploma in Journalism
College of Media and Publishing
PROPERTY
Many jockeys are interested in property. The National Association of Estate Agents offer specialist, regulated property qualifications which are completed flexibly through distance learning. When you're ready to take the exams, you can book a time-slot to suit you at your nearest test centre. Propertymark Qualifications are nationally recognised by employers and recruiters so are the perfect starting place to becoming an estate agent or advancing your career.
KEY LINKS:
The National Association of Estate Agents (NAEA)
Property Mark Qualifications
There are many organisations offering online and distance learning courses. These courses may not be certified or lead to qualifications; however, they may well still be useful in terms of personal and professional development. JETS is not able to recommend these as there are too many on offer, however there are a couple of examples below.
JETS currently have a link with a schoolteacher local to the Malton area who has offered his time, help and knowledge to assist with any learning jockeys may be interested. Owing to the current situation this help will be provided free of charge and will comply with current Social Distancing guidelines.
KEY LINKS:
Oxford College
Stonebridge Associated Colleges