JETS Richard Davis Awards winners announced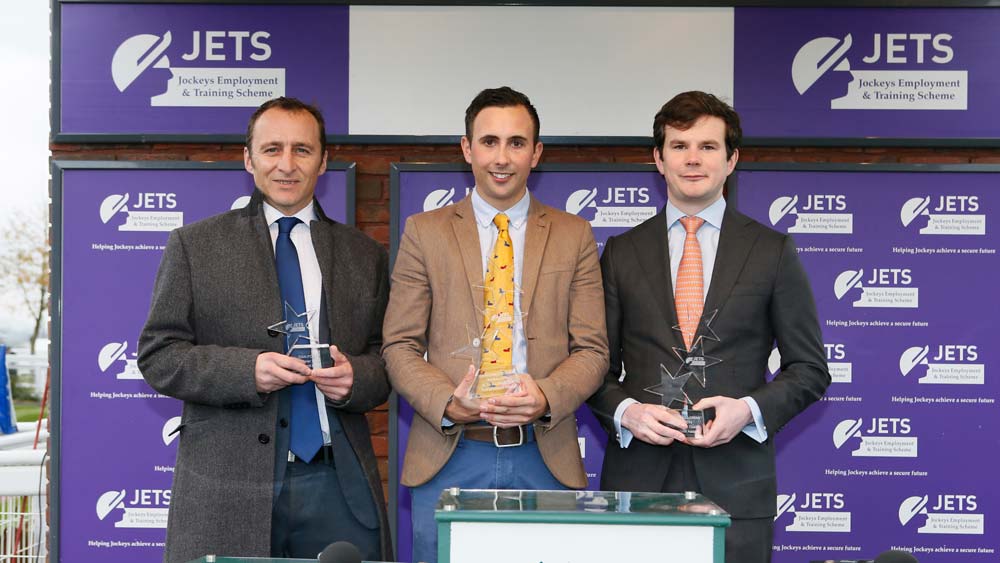 JETS Trustees praised the extremely high quality of this year's applicants for the annual JETS Richard Davis Awards as the winners were announced at Cheltenham Racecourse today. For the first time since 2009 there were joint winners of the Achievement Award, now in its 19th year, after the panel decided that it was impossible to separate two of the contenders.
Held annually, these inspirational Awards honour the career development of jockeys and former jockeys and this year's contenders, as ever, demonstrated the wide variety of careers which jockeys go on to enjoy once they have stopped riding.
The IJF Progress Award and JETS Achievement Award winners are as follows:
IJF Progress Award Winner – Dan Fortt Having spent 24 years as a jockey and valet, Dan has overcome injury and lack of qualifications to set up his own Tree
Surgery and Wood Merchant business. Describing the support he has received from JETS and IJF, he said, "The last six years have been a difficult time for my family as I have undergone seven operations from a shoulder reconstruction to a recent hip replacement. During this time JETS and the Injured Jockeys Fund have provided both moral and financial support that has enabled me to start my own business and start to build a life for my family."
JETS Achievement Award Joint Winner – Richie Killoran
Having had a successful career riding around 100 National Hunt winners, Richie decided he wanted to pursue success in the financial industry whilst he was still young. With the help of JETS he embarked on an intensive trading course and a series of placements before finding a role as a Fund and Investment Management consultant for Marriott Asset Management.
Describing what it means to win this Award, Richie said, "I appreciate the recognition I have received from winning this award and it's great to see other retired jockeys going into such varied careers. I am grateful for the support from JETS over the years which has made my career transition much easier than I anticipated."
JETS Achievement Award Joint Winner – Craig Messenger
Having suffered a career ending injury, Craig has said how JETS gave him the confidence and motivation to pursue a second career with the police. He joined Kent Police as a Police Community Support Officer (PCSO) earlier this year.
Commenting on his job, he said "I wanted a role where I could provide help and support to members of the community and being a PCSO in Medway allows me to do just that. PCSOs play a vital role in keeping Kent a safe place to live, work and visit. I work alongside regular police officers helping to reduce crime and anti-social behaviour and I act as a visible point of contact for residents. "To become a PCSO I had to complete a series of written tests and practical exercises. I have been trained by experienced officers who have taught me the skills I need to help identify criminals, deter anti-social behaviour and support community safety. No day is ever the same. One day I could be meeting residents to help them security mark their property and discuss any policing concerns they may have, and the next day I could be carrying out a foot patrol following the concerns raised by residents. "Although I miss my life as a jockey, I really enjoy my role as a PCSO as it gives me the opportunity to give something back to the community.'
JETS Manager, Lisa Delany, reflecting on this year's winners, said "All our judges were impressed by the determination and initiative shown by our winners in forging second careers in such completely different environments to racing. They were all very focussed on what they wanted to achieve and we can only hope to attract a similar standard of applicants for our 20th JETS Richard Davis Awards in 2015."