JOCKEY COACHING UPDATE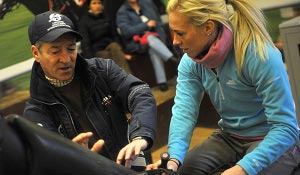 Familiar names are among the recent cohort of trainee Jockey Coaches who have undertaken an intensive four month training programme culminating in a practical assessment which they have all recently passed. The trainee coaches were selected following a recruitment process during which JETS worked with the BHA and the racing colleges.
Subject to verification of their portfolios the following jockeys will be certificated with their UKCC Level 2 Coaching Qualification and begin their role as Jockey Coaches:
Robert Bellamy
Michael Hills
Neil Pollard
Cathy Gannon
John Bramhill
Alex Greaves
Kim Tinkler
Nick Bentley
Warren O'Connor (based in Ireland)
Gordon Power (based in Ireland)
This new batch of coaches will join the other 23 active Jockey Coaches meaning that all Conditional and Apprentice jockeys will now have the opportunity to take advantage of a jockey coach. The type of coaching will differ with some having a more mentoring role while others will provide more direct support, depending on the relationship between coach and jockey as well as what stage the jockey is in their career and where they are geographically.
Kim Tinkler is one of three female coaches joining the scheme for the first time and commented, "I think it's crucial to have female coaches especially when there are times when it's difficult for female riders to open up to a male over certain issues. It was a completely different world when I started out and I often learnt from making mistakes so if I can help young jockeys avoid those mistakes, it will make life a lot easier for them."
The Doncaster Racing College . Doncaster South Yorkshire 30th&31st March 2015 Jockey Coach Training Jockey gets advice from Insructer Yogi & Sue Picture Steve ParkinWith 34 years riding experience, Michael Hills has much to offer young jockeys, "It's so rewarding being able to teach young jockeys what I've done all my life. By becoming a coach, it's a great way for me to always stay involved and give my experience. I've already had nice feedback from apprentices who I've advised on how to use the draw, or predict how a race is going to be run or how to ride a certain track. I wish it was something I'd had when I was younger as I just had to take advise from older jockeys who I was competing against. Now, I'm not emotionally involved, I can just tell it how I see it."
The training, which was delivered by Yogi Breisner and Sue Ringrose, covered a range of areas including coaching philosophy, planning, delivering, evaluating and reviewing. Based both at the British Racing School and the Northern Racing College, the training involved coaching jockeys on the gallops, through stalls, over hurdles and on the simulator with fitness being an important part of the coaching programme.
The BHA's Vocational Training Manager, Gill Greeves who oversees the programme said of this recent group of trainees, "All the trainee coaches were totally committed and driven in their quest to achieve. The standard they set was very high and the assessment team were very complimentary about their coaching skills."
With coaches now available to any Apprentice or Conditional, Michael Hill is urging riders to use them, "Every top sport in the world has coaches and now they're available in racing. Even later on in their careers when jockeys meet different junctions and don't know which way to go, they should be able to turn to their coach for direction. We're here now so jockeys should use us."
HOW TO SIGN UP TO A JOCKEY COACH
If you would like to take advantage of one of the jockey coaches, please contact Jennie Durrans at the British Racing School (Jennie.Durrans@brs.org.uk or 01638 665103)