SCHOLARSHIP AWARDED TO GEMMA TUTTY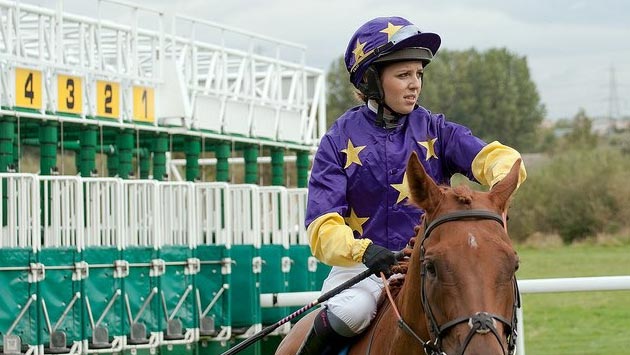 One of the key services that JETS offers is scholarships and grants to enable jockeys to pursue further education or training. For the 2015-16 year, northern based jockey, Gemma Tutty (22), has recently successfully applied for a JETS scholarship to study a Psychology and Counselling degree at Teeside University. The course will be three years long and covers a wide range of practical skills and theoretical understanding of human behaviour.
Gemma, who started out riding as an Amateur in 2009 and has since had 27 winners, explains why she has decided to return to further education, "My career has reached a plateau and whilst I'm proud of what I've achieved, I am ready to take on a new challenge. I've always been fascinated by psychology since studying it at A-level and I would really like to learn more about the subject."
Obviously returning to studying is a slightly daunting prospect but one Gemma is relishing, "I'm really looking forward to studying something interesting, you don't get a chance to do anything very intellectual at the races so it will be really good to expand my knowledge. Getting back into the routine of studying might be difficult but hopefully as I've chosen to do it, I will feel really motivated."
Longer term Gemma is hoping that her degree will lead her into a new career and perhaps further qualifications to establish herself in this field, "There are around 10 different types of counselling and each one requires different levels of qualifications. Hopefully I will have a clear idea of the exact career path I wish to go down during the course of my studies."
With much more emphasis being placed on mental health issues in sport, Gemma is hoping that in the longer term there may be some sort of counselling service available to jockeys. She says, "I have seen a number of eating disorders and other mental health problems in the weighing room with jockeys under a lot of pressure. It would be great to offer some sort of counselling service to jockeys and that they would feel more confident about coming forward."
Gemma is planning to continue riding when she can during her studies commenting, "The term will be over before the busy summer period so I'm still hoping to carry on racing and as I ride mainly for my mother, I'm lucky to have some flexibility around my studies."
If you're interested in applying for a JETS scholarship or grant, please contact us.