MASTER SADDLER SEEKING FORMER JOCKEYS FOR APPRENTICESHIP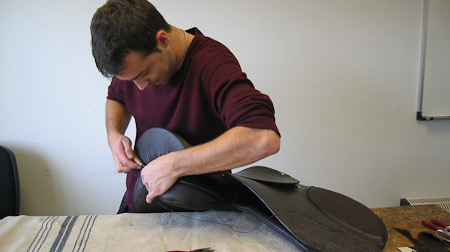 Shropshire-based Master Saddler, Andrew Wheals - The Saddleman - is offering an apprenticeship to start in September 2015 and would ideally like to employ a former jockey, under the age of 23. The Apprenticeship will last three years and would enable the successful applicant to become a Qualified Saddler and Qualified Saddle Fitter.
Working alongside the Master Saddler on a paid basis, the apprentice will also undertake short periods of training at The Saddlery Training Centre in Salisbury.
Andy Wheals said, "We are looking for an enthusiastic person to join our small friendly team. The work is varied with everything from lead rein ponies through to top dressage and event horses, covering most of the UK.
"The position is very much an outside role as all our work is carried out on site at the customers premises. Good communication skills and the ability to problem solve whist becoming an active team member are a must."
Saddlery has proved to be a popular new career choice for former jockeys. Recently, Jump jockeys Hadden Frost and Robert Biddlecombe have transferred to a career in saddlery. Hadden now has his own business HJF Saddlery providing top of the range, hand stitched racing tack and leather accessories while Robert runs the Biddlecombe Saddle Company producing bespoke handmade saddles.
Anyone interested in applying for this apprenticeship or would like more information, please contact JETS Manager, Lisa Delany.