New Format For Racing TV and JETS Media Traineeship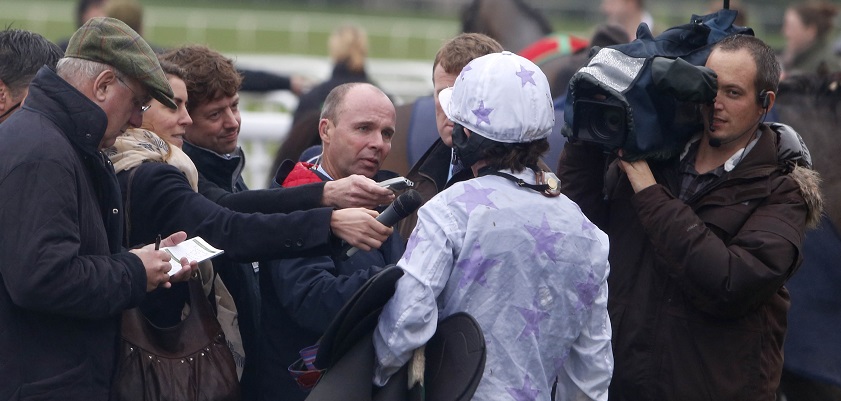 Racing TV and JETS (Jockeys Education & Training Scheme) have renewed their partnership in offering jockeys a media traineeship with a new format which should allow a greater number of applications from both current and former jockeys.
Following the success of two previous media traineeships, in 2019 Racing TV and JETS are offering jockeys a five-day course, with each day focusing on a different area such as studio interviews, outside broadcasts and raceday presenting. Former trainees Shelley Birkett, Jason Kiely and Mikey Ennis all gained a huge amount of experience over a number of weeks but this format will allow those jockeys with less time to benefit from some high-level, intensive media training.
Explaining the new format, RTV Director of Communications, Seb Vance, said, "We have been delighted to team up with JETS and offer jockeys, past and present, the opportunity to work with the company on various aspects of the media over the last two years. We have altered the format of the traineeship this year, so it's now a condensed five-day course, to take place over the course of a month, with the focus more on the presenting and punditry elements. We look forward to hearing from as many jockeys as possible."
Lisa Delany, JETS Manager added: "We are extremely grateful to Racing TV for creating this traineeship for jockeys. Working in the media has proved a popular career choice for many former jockeys and we encourage any jockeys interested in this area to take advantage of this unique and exciting opportunity."
Dates for the courses will be available shortly but will factor in the quieter periods of the Jumps and Flat seasons. Anyone interested should email traineeship@racingtv.com, and outline your accomplishments/achievements to date and why you feel you should be considered for the traineeship.