2018 Richard Davis Awards Entries Open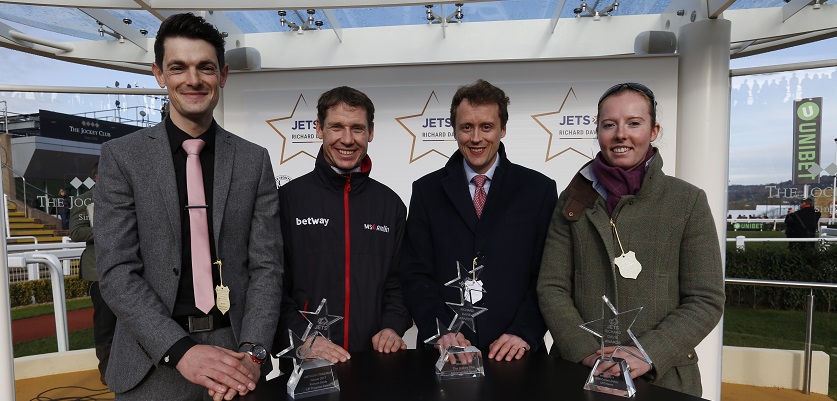 Entries are now open for the 2018 JETS Richard Davis Awards. With £7000 of prizemoney available, JETS is encouraging as many jockeys, both past and present, to enter. As part of an ever increasing focus on dual career development, an Award exclusively for current jockeys introduced in 2017 will acknowledge the personal development work being done by jockeys to both enhance their riding careers and also prepare for their future.

The three Award categories are:
The Jockey Club Achievement Award - The top Award designed for those jockeys who have significantly achieved in pursuing their new chosen careers and is worth £3,000 to the winner with two runners-up prizes of £500 each.
The IJF Progress Award - Worth £2,000, this Award rewards the early progress of those jockeys who have more recently started out on a new career/training path or who are actively preparing for their future careers while still riding or while injured.
The BHA Current Jockey CPD Award - With a prize of £1,000, this award was introduced in 2017 for currently licensed jockeys who have shown real commitment to their Continuing Personal Development (CPD) whilst riding or during injury time out in order to enhance their development as a jockey and/or to assist with their dual career development.
Jockeys can also be nominated for the BHA CPD Award by their Jockey Coach, employer or Personal Development Manager although older jockeys who are focusing on expanding their skills or developing a dual career whilst still riding are also eligible.
Lisa Delany, JETS Manager, said, "We are very grateful to our sponsors, The Jockey Club, IJF and BHA for their support of theseAwards now in their 21st year. Last year's winners perfectly demonstrated the range of careers that jockeys go on to enjoy and we really encourage as many jockeys as possible to enter so their achievements and progress can be recognised."
The closing date for entries is Friday 7th September. Full details about the Awards as well as entry forms can be found here or jockeys can email Lisa (lisa@jets-uk.org) for entry forms.
Stephen Wallis, Group Director of International and Racing Relations at The Jockey Club said, "We are delighted to continue our sponsorship of the Achievement Award. It was a pleasure to see so many strong entries last year and the winner, Ben Swarbrick, epitomised how successful former jockeys can be in any career they set their sights on. As an employer of many former jockeys, we appreciate the vast number of skills they can offer across various career sectors."
Gill Greeves, Vocational Training Manager at the BHA said, "We see how hard young jockeys are working with their Jockey Coaches in all aspects of their riding and also their commitment to developing in other areas through the Personal Development Plans. We look forward to seeing a strong list of entries for current jockeys who are really embracing this all round professional approach to their careers both in racing and beyond."