JETS Unveils New Look in 20th Anniversary Year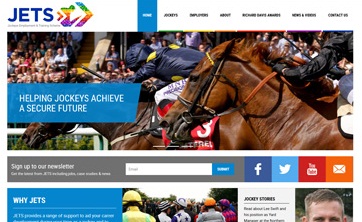 JETS (Jockeys Employment and Training Scheme) has today unveiled a brand new website and a new logo as part of a refreshed look for the organisation which celebrates its 20th anniversary in 2015.
The charity was first established in 1995 in association with the Professional Jockeys Association and The Injured Jockeys Fund. Since then it has helped hundreds of jockeys gain employment and training in new careers and has funded over £1 million of training grants and scholarships. Its Richard Davis Awards have been recognised internationally as a best practice example of career awards and the profile it gives to jockeys preparing for life after sport.
The website (www.jets-uk.org), which is now fully responsive, has a number of key features including:
A Job Board featuring a range of positions specifically suited to jockeys or former jockeys
A dedicated Careers Support section with useful case studies and career tools aimed at jockeys
Jockey Stories featuring profiles on former jockeys now working across a range of sectors
Answers to some of the most commonly asked questions in Jockey FAQs
A dedicated section and downloadable entry forms for the Richard Davis Awards
A handy email sign up area for JETS Enews
A news and videos section featuring all the latest news, blogs and videos posted by JETS
A dedicated page highlighting the Friends of JETS initiative and the range of businesses involve

JETS Manager Lisa Delany said, "We felt it was important to make the site responsive as so many jockeys look at it on their mobile phones and we urge all jockeys to use this website as a key tool for finding the support they need and to gain inspiration when planning their future careers."
Commenting on the role JETS has played over the past 20 years, JETS trustee Mick Fitzgerald said, "JETS is one of the best services of its kind available to any sportspeople and we are lucky to have it. When it first started, jockeys were afraid to plan ahead in case people thought they were losing their bottle or giving up. Nowadays, that attitude has changed as more jockeys utilise the service & realise what brilliant support JETS provides."
The new logo aims to create a stronger identity for the charity and reflect the progressive nature of JETS and the work that it does with the new brand designed to be flexible across a range of media including the regular JETS Enews bulletins and bi-annual JETS Journal.