Niall Hannity and Keith Mercer Win Richard Davis Awards in JETS 20th Anniversary Year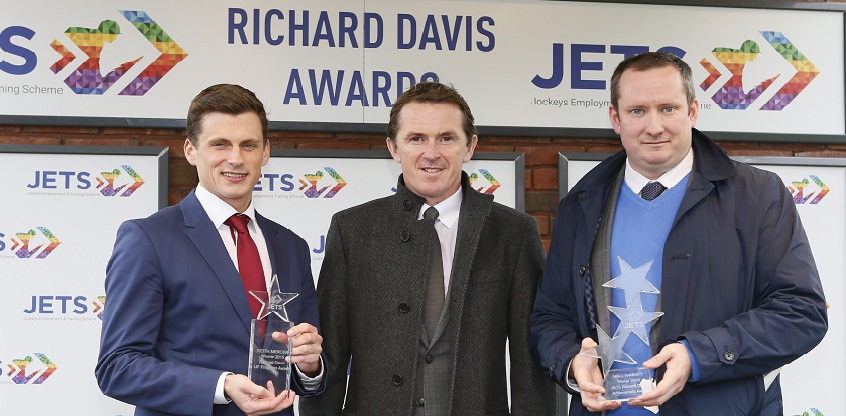 The winners of the JETS Richard Davis Awards were announced at Cheltenham Racecourse today, with the awards presented by AP McCoy and members of the Richard Davis family. The awards, named in memory of the popular jockey who had started planning for his future before his fatal race fall in 1996, were made at a special anniversary lunch to celebrate 20 years of JETS, which was established the previous year.
RUK Presenter and Jockeys' Agent Niall Hannity was the winner of the Achievement Award, receiving £3000, while Michael Naughton (IT Product Manager) and Annabelle Armitage (Physiotherapist) received £500 each as runners-up.
Former Jump Jockey Keith Mercer, in his final year studying for an Accountancy degree, won the IJF Progress Award along with £2000, which will be used towards his career development.
The annual Awards honour the achievement and progress jockeys have made in pursuing their second careers and showcase the services provided by JETS to help jockeys plan for their futures.
Niall rode as a Jump jockey for nine years winning 100 races and consulted with JETS about different career options while still riding. He attended various media training days which, along with passion for racing, his knowledge of race form and pedigree, inspired him to pursue a career in broadcasting. In 2014, he also became a Jockeys' Agent, with 9 jockeys on his books and speaks with trainers on a daily basis who value his in depth race knowledge and has achieved some big winners already with his jockeys. He also sits on a panel aiming to help regenerate Jump Racing in the North of England.
On winning his Award, Niall Hannity said:
"To win this prestigious award means an awful lot. I think as time goes on since retiring from the saddle, you appreciate just how important JETS is for jockeys, as it can be quite a scary and lonely time when you stop riding. I'm so lucky to have found employment in my hobby and this is down in no small part to JETS."
Talking on behalf of the judging panel, JETS Manager Lisa Delany said:
"Niall's passion and commitment to forging a career in a sport he obviously loves so much was clear. All the finalists have achieved so much and every year the judges are hugely impressed by the quality of the entries."
Keith Mercer, one of a number of former jockeys currently studying for a degree at University, said on winning the IJF Progress Award:
"I am delighted - and honoured - to win the IJF Progress award, I would like to express my thanks to JETS for its invaluable support and assistance in enabling my pursuit of a second career. It is great for jockeys to have an organisation like JETS behind them when they make the often difficult decision to retire from the saddle. Without JETS, it would have been very difficult for me to pursue a degree in accountancy and finance at Teesside University."
During his eight year riding career as a Jump Jockey when he won nearly 200 races, including the Scottish Grand National, Keith developed an interest in property and finance. He was forced to retire through injury and decided to do an Accountancy degree to help develop a career in these areas. JETS has provided financial support throughout his studies and he has thrived in the very different environment of full time education, achieving high marks in his first year course assessments and continuing with high grades in his second year. He aims to progress successfully to gain his qualification and is exploring opportunities to work abroad.
This Award is judged by a panel of IJF Almoners and, speaking on behalf of them, Helen Wilson said:
"We were so impressed by the dedication and motivation Keith has shown in pursuing his Accountancy degree. Having enjoyed such a practical and physical career, to decide to go back to University and start from scratch in a new career is an impressive undertaking, especially when you consider the mental and physical strain his injury had on his well-being."
Recognising the importance of JETS, AP McCoy, a close friend of Richard Davis, said:
"Over the years jockeys have come to appreciate how lucky they are to have a service like JETS. With the guidance, advice and financial support they offer for training, it means jockeys can plan ahead and have every opportunity to make a smooth transition into a new career once they stop riding."