Winners of Richard Davis Awards announced at Cheltenham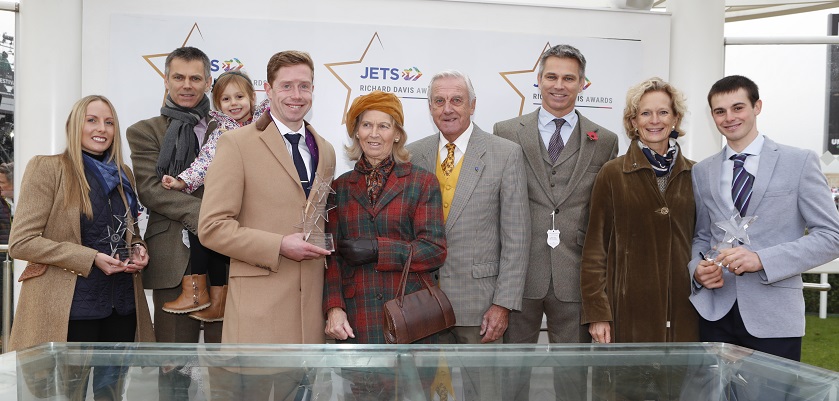 Aodhagán Conlon, trainee Sports Psychologist, wins The Jockey Club Achievement Award
Eva Moscrop, owner of Cortado Espresso Bar in Newmarket, wins IJF Progress Award
Conditional Apprentice Jockey Aiden Blakemore wins BHA Current Jockey CPD Award
The winners of the JETS Richard Davis Awards were announced at Cheltenham Racecourse today with former Jump jockey Aodhagán Conlon picking up the £3000 prize for The Jockey Club Achievement Award. Plumbing and Heating Engineer Anthony Freeman and Racecourse and TV presenter Adele Mulrennan each received £500 as runners-up.
Aodhagán Conlon rode as a Jump jockey for 9 years and had 36 winners under rules in the UK, mainly attached to Rebecca Curtis and Tom George. Always fascinated with the psychological aspect of racing, Aodhagán originally used JETS to help fund a Psychology degree course at Bath Spa University which he completed with first class honours. He has continued his education with a masters in Sports and Exercise Psychology and is now studying for a PhD at the University of Bath alongside Stage 2 training with the British Psychological Society. Alongside his academic work, he is working in practical settings with a range of athletes across sport including delivering workshops at BHA jockey training seminars and as a Performance Consultant for the PJA.
JETS Manager, Lisa Delany, said: ""Every year we're impressed with the quality of entries for these Awards. This year's finalists have shown immense dedication to their chosen second careers, boosting their skill set in a range of different areas and showing complete commitment to developing themselves to their full potential. This has led them all to having great success and it is clear how rewarding they find their post riding lives. We are delighted to recognise their achievements and they are great role models for the career development of jockeys."
Speaking about his new career, Aodhagán Conlon said: "I was never able to have the level of success I wanted as a jockey but after what will be seven years of training, I feel that I'm well on my way to achieving my dream of being able to support athletes at an elite level. The skills that I've developed as a jockey have definitely helped me achieve the academic success and my experiences have helped inform all the work that I've done with jockeys and athletes from other sports."
Former Flat Apprentice Eva Moscrop, owner of Cortado Espresso Bar in Newmarket, won the IJF Progress Award along with £2000. Eva rode for five years until 2016 before injuries and lack of opportunities led to her embarking on a completely new career, opening the coffee shop on Newmarket High Street in September 2018. With the support of JETS, Eva was able to develop a range of skills through various training courses and showed great determination to develop her experience in areas of accounting, technology, marketing and stock management. Her racing connections have helped her grow a loyal and supportive customer base and the coffee shop is now a thriving independent hub for the local Newmarket community.
This Award is judged by a panel of IJF Almoners including Karen Sharpe who said: ""There was a particularly strong group of entries for this year's IJF Progress Award, however Eva stood out having demonstrated great initiative and an incredibly strong work ethic in setting up her own business. Eva has used the fantastic support and resources JETS can offer to her full advantage, resulting in an impressive skill set and in a short space of time is running a thriving and successful business. She is an incredibly deserving winner of this year's Award."
Conditional Jockey, Aiden Blakemore won the BHA Current Jockey CPD Award. This Award is exclusively for current jockeys and recognises those jockeys who are developing themselves in all areas, not just their riding skills, in order to prepare them as well as possible for the future. As well as riding 8 winners, Aiden has demonstrated a fantastic attitude through his work with Jockey Coach Kim Tinkler and has a very proactive approach to personal development, completing a NVQ Level 3 in Racehorse management and Level 1 coaching qualification whilst also managing his fitness and nutrition very effectively too.
The annual Awards highlight the career development of both former jockeys and current jockeys and showcase the services provided by JETS to help jockeys prepare for their futures in order to secure a successful transition from riding.