Ben Swarbrick lands top award in 20th anniversary year of Richard Davis Awards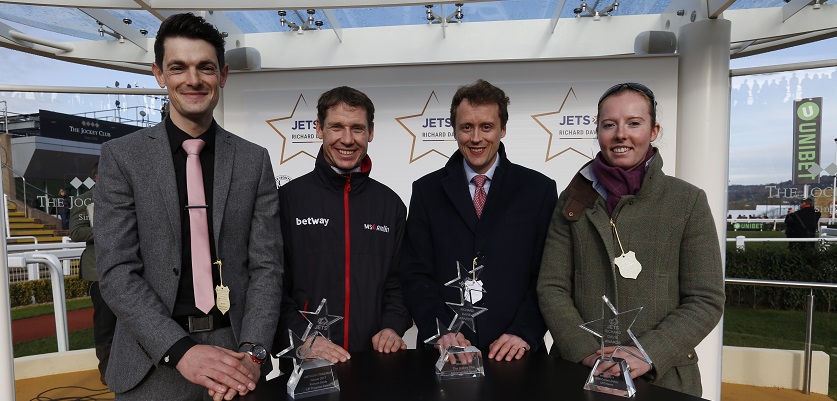 The winners of the JETS Richard Davis Awards were announced at Cheltenham Racecourse on Sunday 19th November, with the awards presented by Champion Jockey Richard Johnson and members of the Richard Davis family. The awards, named in memory of the popular jockey who had started planning for his future before his fatal race fall in 1996, were made at a special anniversary lunch to mark the 20th anniversary of these industry leading career awards. Guests included no less than seven previous winners from the past 20 years.
Former flat jockey Ben Swarbrick, winner of The Jockey Club Achievement Award, is a financial adviser with a Partner practice of St. James's Place Wealth Management and receives £3000. Adele Mulrennan (Go Racing In Yorkshire Raceday Presenter) and Nicola Woolner (Partner in Training Consultancy Sport & Beyond) received £500 each as runners-up.
Former jump jockey Anthony Freeman, a newly qualified plumbing & heating engineer, won the IJF Progress Award along with £2000.
Apprentice jockey, Katherine Glenister won the inaugural BRS Current Jockey CPD Award which rewards those jockeys working hard on their personal development. Katherine has had 12 winners this year and has shown great commitment to developing all aspects of her career, both in and out of the saddle.
The annual Awards honour the achievement and progress jockeys have made in pursuing their second careers and showcase the services provided by JETS to help jockeys develop both personally and professionally whilst also planning for their futures during their riding career and beyond.
Ben rode as a Flat jockey for 4 years from 2002-2006, with over 1000 rides and 69 winners. He then went on to achieve a 2:1 Psychology degree at Leeds University before completing the BHA Graduate programme. Over the years his career has moved into the business world with Ben acquiring a Diploma in Personal Financial Planning last year. His work ethic as a jockey has stood him in good stead and he has built up £5 million under his management since January this year.
On winning his Award, Ben Swarbrick said: "It's great to get the recognition of this Award and the prize is a huge help when I'm trying to grow my client base. I think jockeys often live in a racing bubble so I think it's important that the Richard Davis Awards show what else is out there."
JETS Manager, Lisa Delany, said: "Ben's journey from retiring as a rider and not really knowing what he wanted to do to where he is now, doing so well in a competitive world, is very impressive. All the finalists have achieved so much and show what diversity of careers jockeys can go onto and succeed in. We are extremely grateful to our sponsors and Cheltenham Racecourse for supporting these important Awards and are delighted that so many previous winners from the past 20 years could attend today."
During his twelve year career as a Jump Jockey, IJF Progress Award winner Anthony Freeman had 21 winners but unfortunately his career was blighted by injury. With the help of JETS funding, he enrolled at Warwickshire College to qualify as a Plumbing & Heating engineer. He has achieved outstanding results whilst continuing to ride out for Dan Skelton and found a placement to supplement his earnings and now hopes he will be able to set up on his own in a couple of years.
This Award is judged by a panel of IJF Almoners and Marie King, Anthony's Almoner said: "Anthony had a torrid time with injury as a jockey, with many months on the sidelines.
The judges felt that what stands out about Anthony is his commitment to hard work. With the help and advice from JETS he is a shining example of what is achievable in gaining a second career. Anthony is an ambitious young man and has such strong people and communication skills that one can't help feeling the sky is the limit."