Jockey Turned Key Worker Wins Top Award at the JETS Richard Davis Award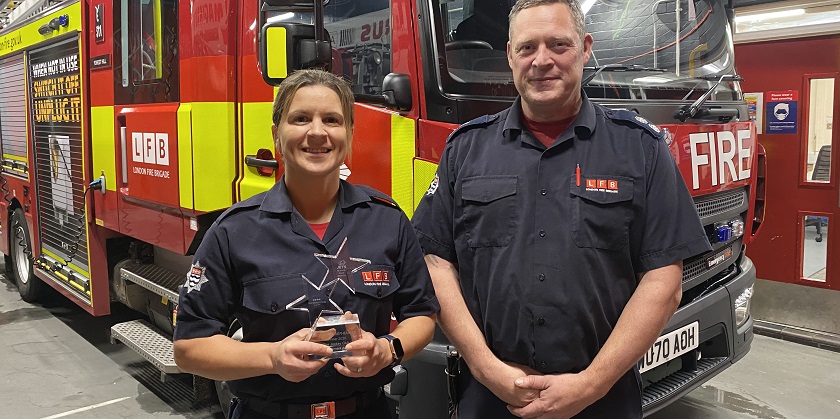 Former Flat jockey, Kylie Manser-Baines has won The Jockey Club Achievement Award and £3000 prize at this year's JETS Richard Davis Awards. Ollie Garner, owner of Cotswold Forage, and John Pritchard owner of Charbel Blinds both received £500 as runners-up.
Kylie retired from riding in 2011 and initially set up a Racehorse Rehoming business before realising an early ambition of joining the fire service. She used JETS (Jockeys Education & Training Scheme) to help her with the detailed application process before being recruited and undertaking an intensive eleven week training course. She now works for the London Fire Brigade and manages to combine her new career alongside her successful racehorse business in Kent where she rehomes around 50 racehorses every year.
Lisa Delany, JETS Manager, said:
"Kylie's success in two different career paths shows how hard work, determination and passion really does pay off. Kylie is a great example of how you can stay connected with racing post riding and use transferable skills developed as a jockey to pursue another career interest. The judging panel was very impressed with all that she's achieved."
Kylie Manser-Baines said:
"Both my careers take a lot of effort, initiative and planning to manage successfully but I feel very satisfied that I can put something back into racing by retraining racehorses and also very proud to represent the London Fire Brigade and help save lives. The work that I do as a firefighter is extremely diverse and I like that no day is the same. The Covid-19 pandemic has added another aspect to what is already a demanding job."
Former Apprentice jockey, Jordan Vaughan, rode for five years before retiring from riding in 2017. Having always been fascinated with the anatomy of a horse, Jordan used JETS to help identify what courses he needed to do in order to qualify as a farrier. He is now carrying out his Level 3 Apprenticeship based in Newmarket. Jordan hopes to eventually set up his own business and to become an Approved Training Farrier so he in turn can employ and teach apprentices.
The BHA Current Jockey Award CPD Award is exclusively open to current jockeys and this year's winner is Italian Apprentice, Gaia Boni. Based in Newmarket as apprentice to William Jarvis, Gaia has been a role model in terms of personal development using all the resources available to young jockeys to help progress her riding career and improve her skill set to develop in all aspects of her life. As well as working on fitness, technique and diet, Gaia has also carried out a number of different training courses and has shown total commitment especially in a year that has been so disrupted by the pandemic.
The annual JETS Richard Davis Awards highlight the career development of both former jockeys and current jockeys and showcase the services provided by JETS to help jockeys prepare for their futures in order to secure a successful transition from riding.
VIEW WINNER PROFILES AND VIDEOS