Former jockey Aodhagan Conlon using his Psychology degree to help current generation of jockeys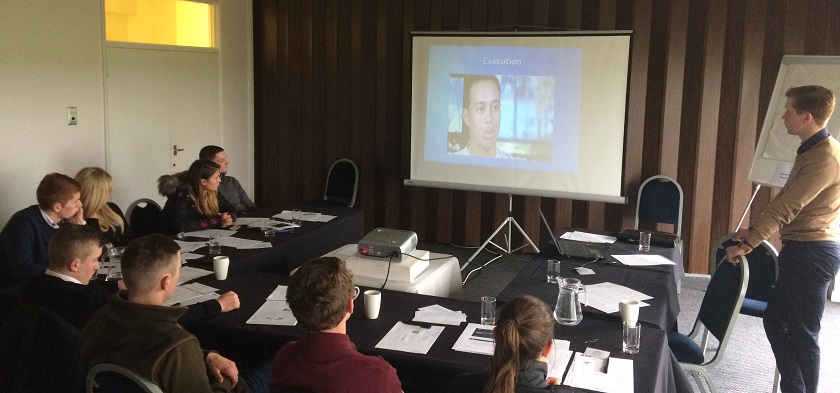 JETS scholarship recipient Aodhagan Conlon hasn't wasted time in turning theory into practice following his graduation earlier this year with a First class honours degree in Psychology from Bath Spa University. The former Jump jockey who still rides out most days for Paul Nicholls, was keen to use his knowledge and experience to help current jockeys cope with the mental strains and stresses of the job. He has joined up with the PJA to provide his services to both professional jockeys in one-to-one sessions as well as presenting sports psychology and resilience workshop sessions for Claiming jockeys at the BHA's regional workshop days.
Speaking about the sessions which he started delivering in September, Aodhagan said, "The true work starts now as I build on the experience and develop more practical application of the knowledge I've gained. Working with jockeys is a good opportunity to try out presenting styles and will be invaluable in helping me developing my technique and how best to deliver to young people. I'm still learning what kind of demands there are on jockeys at each stage of their career as they move from 7lb Claimers onwards so I am trying to tailor each session accordingly."
Aodhagan says he's been adapting his style according to each group of jockeys he's dealing with, "It's a case of getting to know them and what their current set of demands are. Often the best thing is to just open up the discussion and let them share experiences. Hopefully then I can then give some tips on how to deal with certain situations or try and get them to think about something from a new angle.
"The best moments are when you let a group talk and they surprise you because they're generally using some good skills, even without realising they're doing it. Often it is those jockeys with a real professional attitude and who are doing better on the track who are open to suggestions, it's really satisfying working with driven young people like that."
Aodhagan is also looking at other ways in which his studies may help jockeys. His dissertation, for which he earned the highest mark of the year, focused on the mental wellbeing of jockeys and he now aims to investigate this area further as part of a year long Master's degree in Sport & Exercise Psychology. His new dissertation will look at athletic burnout in jockeys which can lead to depressive symptoms. He hopes that evidence collated from jockeys via the PJA could be used as the basis of a proposal for a standardised break in the racing calendar for both Flat and Jump jockeys.
Speaking about the research he said, "My undergraduate dissertation has already shown that depressive symptoms can often be the consequence of burnout especially if you're putting a lot of effort in and not getting the rewards. That's bound to affect you and I feel that if we can demonstrate that there may be a link, we may be able to provide evidence to support bringing in standardised holiday for jockeys."
By using someone like Aodhagan, who young jockeys can relate to, the PJA and JETS hope that this can play a key role in breaking down some of the barriers jockeys have about utilising sports psychology. As Aodhagan says, "I'm already doing consultancy sessions with 3 jockeys. I'm new and initially people might not think they need that kind of support or think there needs to be something wrong with them to use my help. I'd love to get the point across that there are practical ways of applying sports psychology. Some of my suggestions of techniques jockeys can build into their riding have worked and now they want to know more, that is the most rewarding part of the job."
Alongside Assistant Trainer Harry Derham, Aodhagan is also running some training sessions for the jockeys based at the Nicholls yard which have been really well received with the likes of ITV, the PJA and a chef giving up their time to share insights. Commenting on the reaction to the sessions, Aodhagan says, "The jockeys are all genuinely interested. Harry and I don't focus on riding as such but where we can help is other aspects of what you do off the horse and that may well affect what you do on the horse. For example, we did an owners evening when they had to practice explaining different scenarios to owners and we also covered simple things like how to address owners. They're little things but if you're not worrying about that, you can just focus on riding the horse."
With the likes of Aodhagan and Harry on their side, the future is looking bright for the generation of young jockeys coming through today.
If you would like to enhance your performance as a jockey through sports psychology, then please contact the Professional Jockeys Association or Aodhagan directly on 07815 016900.