Lisa Delany Wins Inaugural Rory MacDonald Racing Community Award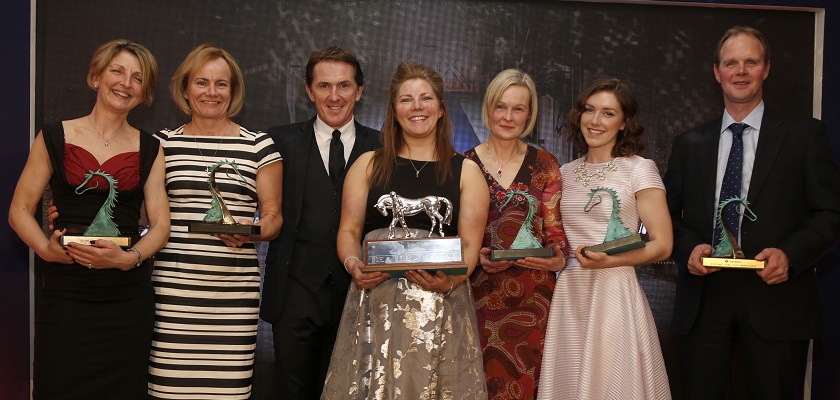 JETS Manager Lisa Delany (2nd from left) has won the inaugural Rory MacDonald Racing Community Award at The Godolphin Stud and Stable Staff Awards, held at The Jumeirah Carlton Tower Hotel on Monday 22nd February.
The winner of the overall Employee of the Year was Gemma Hogg and other winners included Stable Staff Awards and Alyson Deniel (Rider/Groom), Claire Goodenough (Dedication to Racing) , Laura Winstanley (Newcomer) and Stuart Thom (Stud Staff).
2016 saw the introduction of the "Racing Community Award" in conjunction with Racing Welfare which commemorates Rory MacDonald, former Chief Executive of the British Racing School (BRS) for 22 years, who sadly passed away in 2015. Rory worked tirelessly for the racing community, and the sport as a whole, and gave many young people a strong start to their careers in racing. This category recognises those individuals who support the stud and stable staff or have made an outstanding contribution to benefit the wider racing community.
Lisa joined JETS in 2002 and helps maximise jockeys' potential through her relentless commitment and passion for her role. She has worked at JETS for 13 of the 20 years it has been in existence and has been instrumental in changing weighing room attitudes towards career development.
After receiving her trophy from Sir Anthony McCoy, Lisa said, "I am truly humbled to receive this Award, it is a moment I will never forget. Rory was an absolute legend to work with and I am so honoured to work in such a wonderful industry."
The winners of the Awards were decided at a formal judging day held in the morning before the ceremony at the BHA's London office, where the finalists were interviewed by members of the judging panel. A total of over £120,000 in prize money was distributed at the event to the 18 finalists and their yards, studs and charities. Lisa will split her £5000 charity prize between Racing Welfare and Hampshire Isle of Wight Air Ambulance.