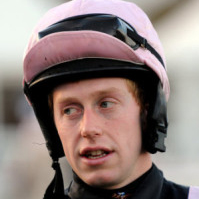 Aodhagan Conlon
- Sports Psychologist
Aodhagan Conlon, originally from Ireland, came to the UK in 2010 to join Rebecca Curtis. He enjoyed a lot of success riding for her at all the major festivals, Cheltenham, Aintree and Punchestown as well as riding winners for Evan Williams and Tom George as well as JP McManus. After suffering a serious fall in 2012, Aodhagan had time to assess where is career was going and decided to study for a Psychology degree at Bath University and then continued his academic career by doing a Masters in Sports Psychology. He is also working as a Performance Consultant for the PJA.
Who have been your favourite horses to ride?
Black Jack Blues for Rebecca. Although I only won on him twice he was great fun to ride and would give you everything, every time. I got to ride him in some big Saturday races and we had a notable day when second to Oscar Whisky in the Welsh Champion Hurdle in 2011. I also have a massive soft spot for God's Own. I was fortunate to ride him out every day when I moved to Tom George's and took immense pride when he won his Grade 1 at Punchestown this year.
What has been your most memorable raceday?
It would have to be Cheltenham Gold Cup Day in 2011. I was riding Barizan for Evan Williams in the Conditional Jockeys Hurdle race. Denman, Kauto Star and Long Run had just served up the most delicious finish seen in Cheltenham in years. I remember going around the parade ring and feeling the most tremendous energy from the crowd. My own race went exactly to plan and I'll never forget the feeling coming down the hill, still travelling and thought 'This is it'. Unfortunately it wasn't to be and we didn't finish as strong as I thought but it was just a massive privilege for me to share the stage with both the human and equine stars on that day.
What motivated you to study for a degree in psychology at Bath?
I suffered a serious fall in Hereford in December 2012. The time I spent on the sidelines gave me a chance to take stock of where I was in my career. I was aware that I hadn't been progressing as I would have hoped and decided to give it 110% for another season. If things didn't click then I would switch my attentions towards my future. Unfortunately I wasn't as successful as I had hoped and so I began looking at university options. My sponsor Enda McNulty, is a sports psychologist to, among others, the Irish Rugby team. We had previously done a lot of work together and it was an area that I was fascinated in. I was confident that it was the right path to take and that I could be successful at it. After some research I applied to Bath Spa University and was fortunately accepted to undertake their Psychology degree.
What was the biggest adjustment you had to make in your new life as a student?
The biggest challenge for me was completing the work away from class. Lectures and seminars are good because there is some interaction. You have to be very disciplined however to take the information home and to apply yourself to complete the readings and do that bit extra in your own time. It can be hard to focus especially with Facebook and Twitter at your fingertips!
What support have you received from JETS in looking for another career?
Lisa Delany has been a massive help all the way through. From deciding what course to do, where to do it, applications and personal statements, all the way through to securing the scholarship from JETS, who kindly contributed 50% of my tuition fees. Lisa has always been just a phone call away, even on holidays (Sorry!), and assisted at each step.
How would you like to use your Sports Psychology qualifications in racing?
The mental side of competition is becoming more and more essential to preparation and delivering in the world of sport. There are a lot of options over a variety of sports, football, rugby, tennis athletics and I would love to be able to make that 5% difference for someone moving from top three in the world to being world number one. I am also really enjoying working with jockeys via my Performance Consultant role and individual 1-2-1 sessions. I truly believe that Jump jockeys are some of the most mentally tough people in the world. With my previous experience and a degree and Masters qualification under my belt I'd like to think that in the future I could help riders reach another level.
What career advice would you give to young jockeys riding now?
It's never too early to start thinking outside your racing career. I know a lot of jockeys are taking part time courses be it in plumbing, carpentry, media training or academics and I think that's fantastic. There are lots of opportunities out there and when you think about all the hard work and dedication that it takes to become a jockey, everyone has these attributes at their disposal. You just have to take these skills and focus them in another direction. The winter is long and you're home early enough from racing to give something a go. Not only does it add to your CV but I think you get a different perspective on life. I love racing but it can become a bit of a bubble at times and when you interact with people outside the industry, I believe you become a more rounded individual and that can only help you in all aspects of life, including your riding.
January 2019