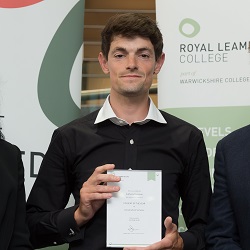 Anthony Freeman
- Plumbing & Heating Course
Anthony Freeman (29) was enjoying a successful career as a Jump jockey with 22 winners under his belt, when he broke his leg in a schooling accident at Fergal O'Brien's yard in 2012. Having spent five months off in recovery, he then broke the same leg again in a fall at Uttoxeter, only weeks after coming back. After several operations, he returned to race riding however he was not getting the riding opportunities he needed to make it pay and decided to go to college. He has just completed his first year of a Plumbing & Heating course at Warwickshire College and has recently received the Award for Construction Student of the Year. He continues to ride a couple of lots every morning and is also working for a Plumbing and Heating engineer to gain practical experience alongside his coursework.
What led to your decision to retire and pursue a career in Plumbing & Heating?
After the second accident, I did consider whether to go back or not, it was very hard. Even though I was riding out for Dan Skelton, I felt people had forgotten about me and the quality of the horses I was riding at the races just wasn't very good. I did feel a key part of the team at Dan's but I had to decide whether to just carry on surviving or do something else. In the end my brother in law who is an electrician persuaded me to train as a Plumbing & Heating engineer. I applied for the course at Warwick College, and since starting I haven't looked back, I'm still riding out for Dan which means I have the best of both worlds.
What do you most enjoy about the course?
Ever since I started, I've just really enjoyed it. I couldn't see myself in an office so this role is perfect, the variety of the job means you're doing something different every day and the days go so quickly. I never really realised what's involved but there's so many areas to get involved with from renewable energies to modern heating systems. So many jockeys are born and bred in racing and have good communication skills as a result and I use these now when I'm dealing with customers. Jockeys also have a really strong work ethic and that's helped me a lot.
How hard has the course been?
It's a long process as you have all the theory at college and then you have to get your NVQ in order to qualify which should be in two years time. You have to get in the right frame of mind and be fully committed. I decided from the outset I was going to work really hard and for the last 12 months, I have had a book in my hand studying all the theory. At first, I was a bit daunted by doing exams but I knew if I really got my head down and understood the modules, I'd be ok and I ended up getting Distinction in every exam I took.
How did you feel on receiving the Award for Construction Student of the Year?
I felt very, very proud and honoured. There were 200 lads at college, many who were very good at what they do working for big construction firms, so I feel for me, coming from a racing background, it's a great achievement. Thanks to the Award, I also now really believe in myself and have the confidence to work on my own and give advice.
What support have you received from JETS?
JETS have been unbelievable, top class. Jockeys simply couldn't get where we want to go without them. Lisa initially helped me with my CV and refined it and then obviously the funding as well is huge for us. With the NVQ qualification and college, I would have needed £4,500 this year and without JETS' contribution, I couldn't afford it.
What are your ambitions for the future?
I'm fit now and in the best of health. I want to continue to gain as much experience as I can and when I qualify to have my own business. Through racing I have made lots of contacts and hopefully these will come in useful. I'd ideally like to take on another jockey who's looking for outside work and give someone else a chance in the way that I've had.
July 2016