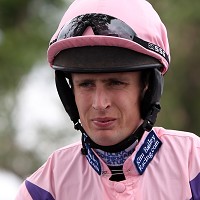 Ed Cookson
- Intensive Farming Course
Ed Cookson started riding as an Amateur jockey in 2006 before becoming a conditional jockey and going on to ride at all the major Festivals and enjoy 39 winners. Over the last 4 years he has suffered from various chronic injuries and earlier this year took the decision to retire from riding. In October, he is due to start a one year intensive farming course, part-funded by JETS, at the Royal Agricultural University in Cirencester.

What made you finally decide to retire?

I realised that over the last 4 years I had spent more time on the sidelines than I had riding. Each time I came back it was harder as I had lost the contacts I had made and felt like I was starting at the bottom again. I enjoyed my riding career immensely but after I broke my wrist again in May I decided it was time to do something else.

What made you choose to do a farming course?

My Dad has an arable farm in the Cotswolds and I always knew that I would have to take it over when I was older. It would have been hard to do a degree course over 3 years at the age of 27 but Dad pointed me in the direction of this one year intensive farming course and when I looked into it, it seemed a really good option for me. I live in Andoversford so it's easy to get to as well.
What skills as a jockey do you think will help you in your future career?
The course is going to be hard work, 5 days a week but as a jockey you have a good work ethic and so I'm prepared to give it my all. I'm also pretty self motivated and I think the fact that jockeys can react quickly and make decisions under pressure will stand me in good stead in farming too.
What are your long term ambitions?
Once I have done the farming course, I would like to improve my business skills and use the good communications skills I have picked up as a jockey to work in ship broking for a bit. When it comes to the farm I hopefully will bring a fresh set of eyes and diversify further and use the knowledge I gain from the farming course to make the farm more profitable.


What advice would you give to young jockeys now about career planning?
The one thing I would say is that you're if unfortunate enough to get injured then make sure you use that time off usefully. Try and do something to improve your qualifications. I could probably have gained two more Alevels in the time that I was injured but I was living in that racing bubble, focused on getting back but I should have contacted JETS earlier and really used my time better.
September 2015