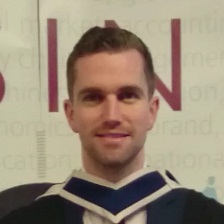 Paul Benson
- Finance Degree
Paul rode as a Conditional and Apprentice jockey based in the North of England from 2004 – 2010. He had 485 rides and 34 winners but when he was struggling with injuries, he contacted JETS who have helped fund a four year BSc Business Computing degree course at the Dublin Institute of Technology. He graduated in the summer, receiving a Gold medal for being top of his class. He has recently started a Masters in Finance course and has secured a job starting next summer for one of Ireland's biggest financial companies, the Davy Group.

What led you to the decision to stop riding and return to studies?

I realised that my career was not going in the direction I wanted it to go but I probably wouldn't have left horseracing if I hadn't been able to rely on the cushion that JETS provides. They were a huge advantage to have and I knew I was mentally able to go back to studying but at the age of 22, to go back to not earning would have been impossible without the JETS funding.

Why did you decide to do Business Computing initially?

I looked at the environment and found that technology was the biggest growing sector and decided it was the best area to try and find a career in. The course was a good mix as it combined computer programming and business modules.

What led you to do the Masters degree in Finance?
I did an eight month placement in a high frequency trading firm and that got me interested in the trading side of business. I attended a few interviews and while they said I had a good degree they really wanted to see something that demonstrated that I had a real desire to work in Finance. It is really helping me get a better understanding of markets and how to create investment portfolios.

What skills as a jockey have helped you progress with your new career?

Jockeys are very determined and used to working hard. When I went back to study I was surrounded by 18 year olds who just wanted to go out drinking but I was totally dedicated. Also many employers are impressed by the interpersonal skills of jockeys and are interested in the background former jockeys have. We have to communicate with trainers and owners and it's definitely something we should emphasise more on CVs as it's such an important skill to have. Sometimes 10,000 people are applying for 5 positions at banks and so they're looking for something different and jockeys have that along with a good understanding of markets and odds which also helps.
What advice would you give to young jockeys riding today?
It's easy for jockeys to be quite ignorant and live in a racing bubble when they're riding, just wanting to be a top jockey but I would say it's really important to have outside interests. They may worry 'if I go off and do a course then they'll think my eye's not on the ball' but that's just not the case. It helps keep your brain stimulated and generally it's good for your mental health to have something on the sidelines to think about, not just racing. Generally I'd advise jockeys to keep all their options open, certainly don't be scared about going back to studying, it's not as hard as you think it's going to be!