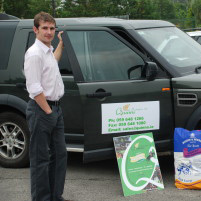 JP McNamara
- Equine Sales Representative
JP's race riding was cut prematurely short in 2006, after riding over 200 winners by the time he was in his mid 20s. He made a miraculous recovery from serious injuries following a fall at Bangor and JETS was there to support him through his career switch.
JETS HELP:
Provision of one-to-one IT training during his recuperation and help with his job application, CV and interview techniques.
THE RESULT
:
JP started as an Equine Sales Rep for Irish Horsefeeds Distributor, Quinns of Baltinglass in 2008.
COMMENTS:
Liam Quinn, Quinns of Baltinglass: "JP was one of many who answered our advert and one of two we have employed. He is very intelligent, gets on with people and has a sound knowledge of the industry. It's been a good result for us and hopefully a good one for him too."
JP: "Once I had time to settle in and find my feet, I found I really enjoy this role. It's not that different from being a jockey in that I decide my own schedule, who to see and where to go each day. Yes, there's a lot of travelling, but I'm used to that."
Summer 2008