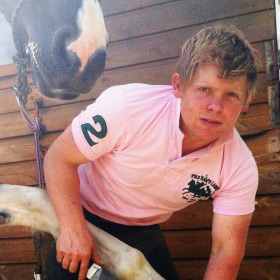 Ben rode over 100 winners as a professional Jump jockey (from 2000-6); and prior to that he had ridden 50 winners as an Amateur. In the face of fewer opportunities in 2006, Ben came to JETS seeking a switch of career which would keep him working with horses and give him long term and secure prospects.
JETS HELP:
Pre-Farriery Access course, Farrier Apprenticeship; career coaching; training advice and course funding.
THE RESULT:
Ben is now a qualified farrier working in Kent and the South East. Ben has just taken on quite a few more clients and is aiming to double his business over the next six months.
The new work is coming mostly from competition horse and show pony yards and, when he's not busy working , Ben also attends farriery demos and lectures when he can.
COMMENTS:
Ben: "What I was going to do after race riding was always at the forefront of my mind and I could see that farriery would give me skills which would both enable me to earn a living, still with horses, and a give me a vocation that I could be passionate about.
"Farriery is similar to race riding in a way. You are learning all the time and you are your own worst critic. Continuous learning makes the difference between being outstanding, as opposed to just very good, at what you do."
May 2013