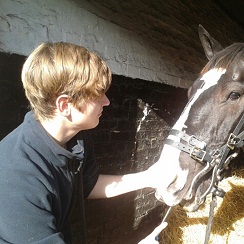 Nicholas Lawes
- Equine Dentist
Nick rode as an Apprentice jockey from 2004 to 2009 and had over 280 rides. After struggling with his weight and ending his career as a jockey, he moved abroad and continued to work in racing in Hong Kong, Singapore and Australia. It was while he was working in Singapore that he became interested in equine dentistry. He successfully qualified in Australia with funding contributions from JETS and he's now back in the UK building up his equine dentistry business whilst work riding for trainers in the Beverley area.

What appealed to you about equine dentistry?
I was working in Singapore where I met an equine dentist who really inspired me to follow it as a career. I liked the idea that it could keep me involved in the racing industry and that I could use my skills as a horseman.
How did you qualify?
I was advised to do an intensive two year course with the Equine Dental Association of Australia (EDAA) in Melbourne. It is one of the best dentistry courses in the world and thankfully JETS helped with the funding. I trained with 15 different equine dentists (EDAA members) across the whole of Australia. I accumulated over 300 days of practical work experience. I also successfully completed two practical examinations, and two theory examinations at the University of Melbourne. They only take on students every two years so I was very fortunate to get on.
What skills as a jockey are you using in your equine dentistry?
Other than my horsemanship, the main thing is having good communication skills. As jockeys you have to talk to all sorts of different people and it's the same with dentistry. I need to explain everything that I'm doing and make sure that I'm able to successfully promote my services as an equine dentist.
What are your ambitions for the business?
Obviously I was away for a few years and it is a competitive area so it's going to take a while to build up the clients but I'm looking forward to growing the business and completing my BEVA (British Equine Veterinary Association) qualifications by February 2017.
What advice would you give to young jockeys about planning for their future?
I really didn't know what I wanted to do when I stopped riding and wasn't prepared for it so in one sense living and working abroad was a great experience but in another sense it was difficult not having a clear direction. Jockeys need to remember that their careers after riding are going to be a lot longer and it's really important to have goals. Even if it's a gradual process I would say it's important to set targets and do some career coaching because being a jockey is not going to last forever.