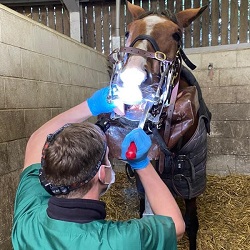 Ryan Withey
- Trainee Equine Dentist
In 2018, Amateur Jump Jockey Ryan Withey suffered serious injuries whilst riding out. With a young family, he felt it was time to make sure that he had another career to fall back on and has since been working hard, training to become an equine dentist. He has recently been taken on as a trainee for Equine Dental Services in Somerset.
How did you decide what you wanted to do after you got injured?
I'd always had good contacts with equine dentists but didn't really think of it at first as a career. I'd been milking cows for around eighteen months and was getting fed up of the daily routine so I talked with Lisa at JETS who gave me some pointers and helped me with my CV and then we found a course which JETS has part funded through Trident Equine Dentistry.
What has the course involved?
I've done three different courses now, in Doncaster and York learning all the different aspects of dentistry and taking on board a lot of theory but in between I've made the effort to go and get practical experience with multiple dentists which has really opened my eyes to what to do and also what not to do. One particular dentist who's given me a lot of support is former jockey Fred Mckenna who was a great help in my early stages and really took me under his wing especially understanding the challenges of moving on from being a jockey and working in another sphere.
How did you secure the role with Equine Dental Services?
I was made aware of the role through a contact I'd made on one of the courses. They saw how enthusiastic I was and they have given me the opportunity. There is so much to learn and they have been so good to me. I am working towards exams and being fully qualified in about three years time.
What skills as a jockey are you using in your dentistry?
The ability to understand horses and general horsemanship really helps in the role. You know what they can take and how to handle different types of horses.
How has the support from JETS helped you?
I just wouldn't be where I am now without them. The money I was saving through JETS funding the course meant I could go out and get the experience I needed between the courses. If I've had a rubbish day, I know that Lisa will be on the phone and it's the same with the Injured Jockeys Fund, I've felt very supported.
What is your advice for other jockeys?
It's really important to have something in your mind that you want to do if you can't work in racing. I would encourage them to take on board advice, speak to lots of different people and put ideas out there, you never know what might come from a conversation.