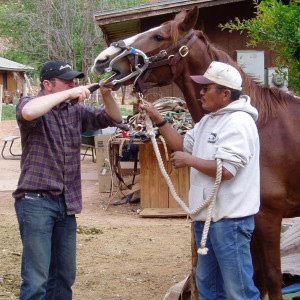 Frazer Houston
- Equine Dentist
Frazer rode 8 winners as a Conditional Jockey from 2000 to 2004 (from over 130 rides), before retiring from race riding, in his early 20s, following a serious shoulder injury from a bad fall at Uttoxeter. He chose to pursue an alternative career within equine dentistry because he knew he wanted to be self employed and part of a growing profession.
JETS HELP:
JETS researched the best available and most creditable training route to achieve the qualifications expected to practice equine dentistry in the UK. JETS' training grants helped to fund Frazer's initial dentistry training and subsequent BEVA Equine Dental Technicians course.
THE RESULT:
Despite the courses having required over £10,000 of personal investment, he has remained dedicated and focussed on the future. Frazer also developed, at one time, a complementary business selling equine hydrotherapy spas in America, where he did his initial training. His efforts won him the JETS' Griffins Richard Davis Award in 2006. He is currently running a thriving practice in the Lancashire area.
COMMENTS:
Frazer: "I am really not sure I could have achieved all this without JETS"
July 2012