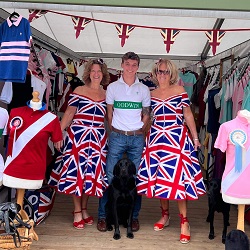 Mitch Godwin
- Clothing Start Up
Mitch Godwin (24) rode as an Apprentice from 2014 to 2020 and had 800 rides and 60 wins including winning aboard Cricklewood Green for Sylvester Kirk at Ascot and in the Brighton Mile. From a very young age he always wanted to be a jockey however during the pandemic when he wasn't riding, he suffered a rare bleed on the brain which made him reassess his future and has since set up a clothing business, Godwin Lifestyle, inspired by iconic racehorses which he launched in May 2022.
What made you decide to set up your own clothing business?
During the pandemic when racing shut down, I moved home and then unfortunately had an AVM bleed on the brain. It took me quite a long time to recover and it really made me question what I wanted to do in the future. I was very proud of my riding career and enjoyed every minute, even the ups and downs but after I recovered from the injury I felt stronger as a person and wanted to try harder in my career. My Mum has an equestrian superstore so I had some knowledge of retail and the equestrian market and I decided I really wanted to create a unique, clothing brand which was connected to racing.
How did you go from the business start up idea to actually launching your brand?
I had to start from scratch literally with a blank piece of paper and some drawing pencils, sketching designs, researching fabric and which manufacturers to use. It took me eighteen months to get the finished product in place and receive the goods so I could launch the business. I did two shows initially earlier this year, the Royal Windsor Show and the Royal Bath & West Show and did really well. I have also now managed to get the products into retail outlets. We have 20 polo shirt designs all inspired by iconic racehorses and we have received so much interest, including from owners. Cyraname's owner Samantha de la Hey came in and bought one which was great.
What has been the most satisfying part of starting your own business?
It has been so good to imagining the concept and then see the designs become finished products that people like and buy. I've loved speaking to people at the shows and interacting with them and getting feedback from customers. To go from nothing to launch at show has been a great experience.
What has been the most challenging aspect of starting your own business?
Managing the financial side of the business has been hard. You need to invest thousands initially and managing stock and cash flow is tricky. There's so much to think about with regards admin, samples, the production line and logistics plus the marketing side with social media and doing deals with retailers. It's a big learning curve.
What are your ambitions for the business?
I really want to drive awareness and create a brand which is really well recognised both within the racing and equestrian world and with the wider public. I'm planning to do more shows and I'm trialling a marquee at Chepstow Racecourse which hopefully will go well and then I can approach other racecourses and possibly look at establishing partnerships with organisations within racing. Once I get the business established I'd really like to be able to give back to the industry that has given me so much and set up a charity partnership too.
What career advice would you give to jockeys riding now who may be considering setting up their own business?
My dad always said I needed a back-up as in a click of your fingers your career could be over due to injury so I think it's a really good idea to have a plan, write down your goals and ideas although I wouldn't recommend setting up a business if you don't have any idea or knowledge of that industry. You must try and gain some experience first as I was able to do through my Mum's business.
What skills developed as a jockey have you found useful in your new career?
From a very young age, you have to know how to communicate professionally as a jockey and that's been really useful when dealing with customers and suppliers. Also you have to have a strong work ethic, you can't really switch off and that's the same with a new business. I have real determination to make it successful and whilst I put everything into being a jockey, I think probably if I had the same determination as I have now when I was a jockey I think I'd have done better!