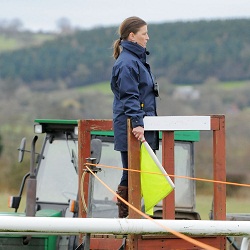 Sophia Upton (nee Mitchell) enjoyed a 16 year riding career, starting as Amateur then conditional to David Gandolfo riding 59 winners in total. She retired in 2004. Having taken some time out to raise her two children, she applied for the BHA Sessional Starter role in November 2015 and is now qualified and working on racecourses throughout the Midlands. She is the first female starter to work in British racing in 15 years.
What is your favourite riding memory?
Winning on a horse called Balanak at Warwick. Mosttop jocks had had a go on him, and he lost his form completely, however when I got a go, I sat out the back and we were 20 lengths last turning in only to get up on the line. Class, but it could have looked very bad if we'd been beaten!
What led to your retirement as a jockey?
I was running out of rides, when I got down to 3lb claim, things got tougher and I felt at 32, I wasn't as effective anymore and I had different priorities in life, namely starting a family with my husband, Guy Upton (former jockey and now Assistant Trainer to Jonjo O'Neill). We had also started a pre training yard before we stopped riding so it meant I knew I had something to go into when I retired.
What support have you received from JETS?
I have always stayed in touch with JETS who helped me do some Media Training and I did some bits of TV work and also tried to do some commentary for Ladbrokes. I knew I always wanted to stay in racing and Lisa has helped me pull my CV together when I was looking for roles after having my first child. When I saw the starter role advertised I contacted Lisa again to help me update my CV and she also gave me some advice on answering some of the questions on the application form.
What made you apply for the Starter role?
Whilst I had always carried on riding out, my main priority was being a Mum however the children are now not so dependent on me and the fact that the role was a part time one was appealing as it could fit in with my family commitments and also I have always wanted to work in the racing environment again. I see it as a great foot on the ladder for me and hopefully the role will develop and I can go full time later down the track.
What training did you have to undertake for the role?
I had 12 training days when I had to shadow other starters and I also spent time with other people involved in raceday operations who work with the Starters such as the Clerk of the Scales, the Judge and the Flag Operator . I also had to attend an Induction Day at the BHA in London, where a member of all departments told us a little about what they all do. All my training has been at Jump fixtures but I hope to be trained on the flat too but there is a lot more to do in terms of paperwork, managing previous problem horses and stalls procedures.
How have you found it being back on the racecourse circuit?
It has been really enjoyable, I work with a great bunch of people who have all been very helpful and I felt very accepted, especially as it has been a very male dominated role for a while. Everyone thinks it's just lifting a flag but there is a lot more involved in the role and it is a very high pressure job with a lot rolling on the few seconds at the start of a race. The jockeys have on the whole been very good, the senior ones know me, while the younger ones have been more unsure. As a jockey I always respected the starter and now I respect the jockeys. I've been there and know what's at stake and hopefully all the jockeys appreciate that. It's interesting being on the other side of the fence, so to speak.
As a former female Jump Jockey what are your thoughts on the current generation?
It really is a different era to when I was riding, things have come on enormously but it's taken time. I said 15 years ago that we would see a leading Conditional female rider and now we have Lucy Alexander so I was proved right eventually! On the Flat we have winners every day of the week.
What advice would you give to young Conditionals riding now?
You always need to have in the back of your head that it is a young person's sport and that you're likely to stop riding in your 30s so it really is worth looking at what JETS can offer and explore other avenues. A career can end very traumatically if you've been injured and so it's good to think about what lies ahead and for me, I now see that family is my biggest priority, but when I was riding, riding was all that mattered.
March 2016