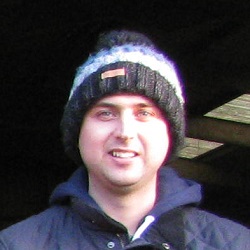 Russ Kennemore
- Jockey Coach
Russ enjoyed a successful 10 year career as a Flat jockey, first as an apprentice to Reg Hollingshead and then as a professional. He rode 160 winners and enjoyed stints in Europe and Dubai before retiring in 2013. The last two years of his career were difficult as rides dried up and he knew he had to think about his new career. He started working with young jockeys and work riders at Mark Johnston's yard as well as working alongside Yogi Breiser as part of the regional training programme and found he really enjoyed making a difference to others' riding ability. He gained his UKCC Level 3 coaching qualification in December 2018.
What were the circumstances which led to your retirement?
The last two years of my riding career were hard as rides were drying up and I knew I had to make the difficult decision to retire. Luckily I got a job riding for Godolphin in Dubai and it was while I was there I decided enough was enough and that I had to give up my licence.
Did you know at that stage what you wanted to do?
At first I wanted to come out of racing altogether but it was hard with no qualifications to find something outside racing. I had to give myself a stern talking to and make myself realise that I had a lot of experience in a sport that I loved and that I could put something back in. I went back to the UK and started working at Mark Johnston's. I didn't know if I would be any good at teaching but when Mark and Deidre asked me to do some work with the young kids at the yard I found it was something I really enjoyed.
Why did you decide to do the coaching qualification?
Sam Trainor, the Northern Racing College roving assessor approached me about doing regional training working alongside Yogi Breisner. I really was learning from the master and it all really stemmed from there. Phil from JETS has been very supportive and encouraged me to join the Jockey Coaching Programme.
Why do you think Yogi Breisner is such a good coach?
His approach to people is amazing. If someone's not interested he knows how to win them over and it's almost like he has x-ray vision, you think you spot something with a horse and rider but he's already seen it long before. Even the best riders improve once they've had a session with Yogi. He has an aura about him and it is such a privilege to learn from him.
What advice would you give to young jockeys riding today?
I say to everyone to take their time. I made a lot of mistakes in the way I rode, I rushed a lot but we're riding animals they're not machines. Whether it's your riding or working in a yard, you need to stick with it and get your head down. The grass isn't greener and moving from one yard to another makes people question your commitment.
January 2019