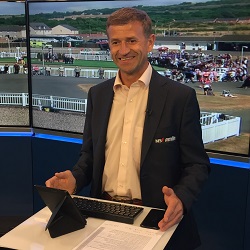 Andrew Thornton
- Broadcaster
Andrew Thornton rode as a Jump jockey for an incredible 28 years riding over 1000 winners including the Cheltenham Gold Cup, Hennessy, King George and Welsh National. He has always enjoyed working in the media alongside his riding career and was one of the early enthusiasts of the JETS media training courses. His radio and television work kept him in the public eye during injury or less busy periods and has enabled him to make a smooth career transition following his retirement from riding in June 2018.
When did you first start thinking about what you wanted to do after riding?
I'd probably had a media role in the back of my mind since I was about 24 but it first really hit home about 10 years ago when I had a shoulder injury, I was 35 and that was seen by many as retirement age for a Jump jockey. I'd always been intrigued by working in the media and used to watch Des Lynham on Grandstand and think that was a great job. My first job was for the old Racing Channel, it was a busy Saturday and I only had a couple of rides so they asked me to come on. I was thrown in at the deep end but I enjoyed the thrill of the live experience and I felt at ease with it.
How did you pursue your interest in the media from there?
I started looking into it a bit more and did some bits and pieces for Attheraces and then got the chance to do the Sunday Forum. I did some of the early JETS media training courses which were really useful. I had the mentality where I convinced myself that by doing the media work, I was still in the public eye and that people wouldn't forget me when I was injured. I guess I was a little insecure and no matter how much success I was having I had a fear of failure. Then, over the last 7 or 8 years I started doing the odd day for BBB 5Live at Cheltenham just dipping my toe in the water but then more recently I started planning to do the media work rather than take rides elsewhere as I knew I wasn't going to go on riding forever.
What advice would you give to jockeys who get injured?
I would encourage everyone to try something different when injured, no matter how old you are. It keeps you busy and it helps you rule out what you're not interested in if nothing else. It might be media work or working at the sales or on a racecourse, it depends on each person and what ticks your boxes. In dark times, self doubt does creep in and you question how good you'll be when you come back so the key thing is to keep your mind active.
Did you feel a certain pressure to retire from riding as your career continued?
I used to get annoyed with everyone asking me when I was going to retire so I would say after I'd ridden 1000 winners but I said that really so everyone would stop asking but the mental side of actually hanging up your boots is the hardest thing. I didn't want my 1000th winner to be the happiest day and then also my saddest day by retiring but as it happened I injured my ACL getting off in the winner's enclosure and I didn't have to make a decision. I actually wanted to prove I could get back again, almost prove people wrong who were doubting I'd come back.
How hard was it to motivate yourself to come back from injury again?
I wanted to make sure my body was in as good shape as possible, it was almost like I felt I needed to put my body through it one more time, it was perhaps a bit of a sick mentality but I kind of wanted to lose the weight again one more time. When I'm not riding I go up to over 12 stone and so I'd be going for a run and half way through ask myself 'do I really want to keep doing this' but then I'd think I'm going to have to do something else if I stop. I was putting it off! I did come back 9 months later and then had a fall schooling and took another 6 weeks off again. It definitely gave me lots of time to think about the future and what I was going to do. In the end though I was lucky and had 18 months at the end without a fall and 10 winners from my last 50 rides so my stubbornness paid off!
What was it like making that final decision to retire?
I had looked at various different date options but none of them felt right. I rode a winner at Worcester and could have announced it then but then I had rides at Wincanton that evening and I almost wanted to make that mad dash to another racecourse one last time. But then one morning I woke up at 3am and it was a definite moment when I knew I was ready to stop. For the last few years, the younger lads were riding horses I'd been riding and I was only riding out once every three weeks. I was doing William Hill radio 2 days a week and financially the media work was paying more than the riding. It had come full circle from my Amateur days when I was just riding for fun, I wasn't doing it for the money.
I wrote down all the people I need to speak with and then I talked with Seamus Mullins that we'd arrange it for Uttoxeter the following week. The racecourse kindly sorted a box for my friends and family and I was lucky enough to ride a winner with lots of the lads around me to make it special. It was a huge feeling of satisfaction that I was able to do it on my own terms.
What has the transition been like so far?
I've not had too much time to think about it but I remember on the day I finished, I thought 'this is a young man's game!' I've taken a little bit of time off with the family to try and enjoy it. I did some hosting at Ascot which was good. The media work has definitely helped ease the finances and prepare me for life after riding. It's given me a different perspective and I still feel involved. I think it's tough sometimes for jockeys when people stop knowing who you are. I've been very lucky as when you're forced to stop through injury it's like the rug has been pulled from under your feet but I've been able to ease my way out.
Do you think jockeys need more help to prepare them for the future?
JETS do a great job and provide so much support with courses and career skills but I think sometimes jockeys need that person close to them to give you a push to do it. I think jockey coaches are really important and I'd like to see them being used throughout a jockey's career like other athletes have. It's often when a jockey loses their claim and are left to their own devices when they lose their way. I know what it's like, when you get that self doubt and there's nobody there to give you that constructive criticism and help you find your way, not just in riding but also in life generally. I did media training with JETS but didn't do anything else because I thought my focus would be taken away. I thought that then but I really wouldn't think that now. JETS is so accessible nowadays and attitudes have changed, it should be second nature now for jockeys to use JETS. Most jockeys have only ever wanted to be jockeys and haven't gone on to further education so it's really important for jockeys to ask 'Right, what am I going to do?' especially when you're injured.
July 2018