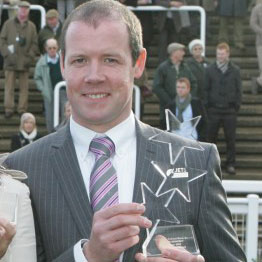 Alan Dempsey
- Racing Official
During his 10 year race riding career from 1998 to 2008, Alan amassed 262 wins from over 2,100 rides, including 3 rides in the Grand National and numerous Cheltenham Festival rides. However, it did also leave Alan with a tally of race riding injuries including a fractured skull, broken cheekbone, multiple fractures of the eye socket and major facial injuries which left him with 8 metal plates in his face.
JETS help:
JETS helped Alan with career coaching, job application advice, and interview coaching.
The Result:
Alan was appointed a BHA Stipendiary Steward in 2009. Alan was rewarded for his career development efforts when he tied for the Griffins Richard Davis Achievement Award in 2009.
Comments:
Colm: "I am really enjoying this new role. It's definitely where I wanted to be." Ian Balding: IJF Trustee at the time and Awards judge: "Alan has come back from some horrific falls, made good use of JETS early on and really worked hard to gather the right sort of experience to qualify him for his new role which may represent a more obvious choice for a jockey but has always been very tough to get in to. He got full marks for his commitment."
November 2009