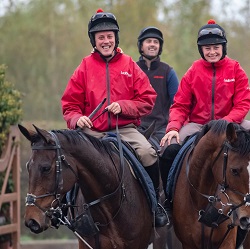 Tom Messenger
- Assistant Trainer
Tom Messenger rode as a Jump Jockey for twelve years enjoying over 130 winners, the biggest one coming in the North Yorkshire Grand National aboard Chris Bealby's Chac du Cadran. He retired from riding aged 30 in 2015 and relocated from Northamptonshire to Warwickshire where he took up the role as Assistant Trainer for Alcester-based Dan Skelton. He was recently shortlisted for the Leadership Award at the Godolphin Stud and Stable Staff Awards.
Explain how you prepared for your transition from being a jockey into a second career?
I was very aware that some jockeys struggle when they retire from riding if they don't stay in racing. It's such a bubble where everyone knows each other and it can be hard if the phone suddenly goes quiet and you're not involved. So all the way through my career I knew I'd stay in racing, that it would help me cope with no longer being a jockey. Even though I wasn't riding anymore I would still be involved. The role of Assistant Trainer was appealing to me and as the last couple of years riding got quieter, I started actively looking for opportunities and the position with Dan Skelton came up at the right time. Even then, it was still a hard decision to make to draw an end to my career as a jockey.
What has been the biggest challenge in your new career?
The leadership and management aspect of the role was definitely a challenge. All of a sudden, I was second in command to 40 or 50 people and initially that was quite hard. As a jockey you're used to managing upwards with owners and trainers but in my new role I had people looking up to me for guidance. I would say I've learnt a lot whilst on the job and my management style has changed a lot over the last five years.
What do you most enjoy about your second career?
Seeing horses progress from a young age and reach their potential is definitely very satisfying but more recently I'd say that nurturing staff and seeing them being promoted has also been really rewarding. Having that sort of mentoring role has become something I've really enjoyed in recent years.
What skills that you developed as a jockey have been most helpful?
There is a lot of ownership liaison in both roles, managing expectations and also being used to a travelling lifestyle, going racing a lot and the varied schedule.
What advice would you give any jockey hoping to be involved in a racing yard as a second career?
When I was still riding, I had a point to point yard with my girlfriend (now wife) so that definitely helped me gain useful experience with racehorse care but otherwise I'd say gaining the Level 3 Diploma in Racehorse Care and Management would be useful. I also wish I'd done a leadership or management course so I would recommend using JETS to do that. Also it would be useful to make sure you have a good understanding of the handicapping and entry system.
What are your ambitions for the future?
I just want to help the yard keep progressing as it is. I joined Dan when he'd only been training for three years so I feel really involved in the success that the yard has had, we are very ambitious and I would love to help Dan become Champion Trainer.