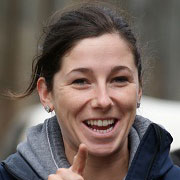 Victoria De Sousa
- NRC Assessor
Vicky rode as an Apprentice Jockey from 2005-7. With the help of a JETS scholarship she went back to college to take a degree in Equine Science. She has since gained a job as an Assessor for the Northern Racing College which she manages with being a mum and wife to Flat jockey Sylvestre de Sousa.
Can you describe what you do in your role as an Assessor?
I'm one of five assessors and am based in Newmarket. I oversee students from the college who come to Newmarket to carry out placements in order to gain their Level 2 and Level 3 diplomas. It is my job to help place them in yards, find accommodation and mentor them while they carry out their Diplomas. I have around 15 students in my care who I see once every six weeks although for those who need more support I see them more often and am often on the gallops seeing them ride. I also oversee the transport qualifications that many staff need along with helping out with marketing, Jockey Coaching and whatever the NRC needs me to do.
What sort of people do you look after?
The students are generally aged from 16 to their mid twenties and from a range of schools and colleges. Some come from quite deprived backgrounds so they need different kinds of supportto help them build their confidence or to help them with their Maths and English which is a mandatory part of the Diplomas. For those that need more help I try to find them smaller yards to work at where it's easier for them to establish themselves. It's helped that I have had specialist training on how to deal with teenagers and improve their performance.
How has the role changed since you started?
It has changed a lot over the role as more child protection laws have come into place which means we have to go through a lot more DBS checks and online child protection courses. We deal with all sorts of cases and nothing shocks me about where the kids come from anymore, I just make sure that nobody feels like a failure and try to treat them all as normally as possible.
What do you most enjoy about the role?
It's great to see when someone does well, when they've reached the end of their Level 2 and the trainer is happy. It's also satisfying to see the students heading off to get jobs abroad too such as for Darley Australia or working riding in the United States.
What do you least enjoy about the role?
I don't like all the paperwork that comes with the job. Each assessment is pages long and every meeting with a student has to be recorded so it's very time consuming but I guess it's just part of the job?
What advice would you have for the students starting out in their careers now?
I always say to the girls to focus on building up their fitness and strength so they're on more of an even par as the lads. With the lads it's all about making sure they eat healthily. Kids are getting bigger nowadays so it's important that they think about their diets to remain healthy for riding. A career in racing can be successful, the money isn't bad but you have to stick at it and also think about always trying to improve your qualifications and skills which helps whether they stay in the industry or not.
What support have you had from JETS and the NRC?
Lisa from JETS has been great so apart from the initial funding for my degree course, she's helped me with my HGV training. Dawn at NRC has also been great, she gives me a lot of flexibility in my role and has paid for all sorts of courses to help me improve at my job and remain qualified to be an assessor including first aid, health and safety, my Assessors verification award and Level 3 in racehorse care and management.
March 2015