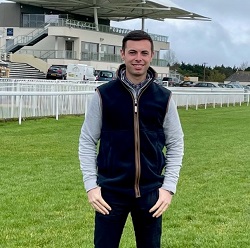 Ben Hicks
- Trainee Clerk of the Course - Bath Racecourse
Ben Hicks started his career with horses in the Eventing world, working for William Fox Pitt before switching to racing where he first worked for Ralph Beckett before moving to Warren Greatrex. He also rode in France and in total had ten winners over Jumps both as an Amateur and a Conditional. During the COVID pandemic, Ben reflected on where he wanted his career to go and in January 2021, aged 26, he decided not to renew his licence and then successfully secured a place on the BHA Development Programme. He has recently gained a job as Trainee Clerk of the Course at Bath Racecourse.
What made you decide not to renew your jockey's licence earlier this year?
Lockdown gave me a really good opportunity to assess what I wanted to do and I decided that whilst I really wanted to carry on working in horseracing which I love, that there were plenty of other opportunities to work within the industry.
How did you hear about the BHA Development Programme?
I had been in touch with Phil Kinsella throughout my riding career so he highlighted the programme to me and it was also advertised online. I was eligible to apply as I'd done a Level 3 Diploma in Photography prior to working in racing so I had a higher level of education required to apply for the course.
What did the Development Programme cover?
Firstly I did a two week course in the summer, getting to know every aspect of the industry. From bloodstock to training, international racing to governance the course gave me a brilliant overview of the industry and opened my eyes to a lot of different aspects to racing. I then did an eight week placement with Star bookmakers which was also a great experience giving me a really useful insight into all aspects of the betting industry. I made some really good contacts both in terms of people presenting on the course and the other students which will be really helpful as my career progresses in racing.
How did secure the role of Trainee Clerk of the Course?
I saw the job advertised on the Careers in Racing Job Board. It immediately grabbed me as it didn't seem too far removed from my previous life in racing. I contacted Michelle at the BHA who organised for me to do a shadowing day with the BHA Senior Inspector of Courses Richard Linley. This really helped prepare me for my interviews with ARC. The work placement I'd done as part of the BHA Programme also really helped me get used to communicating with people in a more formal work environment so going to an office and being interviewed wasn't so daunting.
What will the job involve?
The first year will mainly be training based, I will have to do a Turf Management course in Newmarket and various other qualifications. I will travel to different courses understanding the different challenges of each track and gaining experience and advice on how to deal with different situations before I become full time Clerk at Bath.
What are you most looking forward to about the role?
I'm looking forward to being established and getting to the point where I know the racecourse really well and you know straight away what will affect the going and am able to give spot on feedback and information to trainers and jockeys. Having been a jockey, I know how to communicate with jockeys and trainers in a way that they will understand.
What advice would you have for jockeys who want to explore other careers within racing?
I would say it's important to engage with JETS. They were very supportive all through my riding career and have lots of resources to look at to help you decide which area you want to go into. It's also worth preparing your CV and making notes of experiences you've had which might be useful for future job applications. I'd definitely start looking at different qualifications you might need for the area you're interested in.
How do you feel about the future?
I know I've made the right decision and I'm really excited about moving forward. I'm just glad that I can use all the knowledge and experience I've built up as a jockey and apply it to a different area within racing.