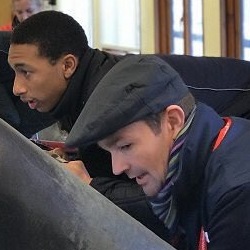 John Bramhill
- BHA Jockey Coach/Equine Welfare Integrity Officer
John was a professional Flat jockey for 14 years between 1990 and 2004. He initially continued his career in racing working for Godolphin but subsequently set up his own car valeting business which he ran alongside being a Jockey Coach which he started in 2015. He now splits his time between coaching and working for the BHA as an Equine Welfare Integrity Officer.
Why did you decide to retire from riding?
The four years leading up to my retirement were actually my best years with about 500 rides but I got sick of getting horses ready at home and then losing rides to higher profile jockeys but that's just the way racing is. So I was definitely a bit dis-illusioned and riding in banded races when I was getting more money from my riding fees than from prizemoney even when I was riding winners. Racing is in my blood though and I'm glad to still be involved.
What led you to setting up your own business?
I always liked cars and I kind of used that as my 'get out' clause. I contacted JETS who organised various courses to help me set up a car valeting business in 2006. It was a completely alien environment as all I'd known was horses so I had to learn the marketing and sales side quickly in order to progress and develop the brand. The business grew to the point when I was able to sell it under the 'Juicy Details' brand in October 2017 to focus more on coaching.
How would you describe your life as a Jockey Coach?
I am Newmarket-based but I pick up a lot of the young jockeys living in areas where there isn't currently a coaching provision. I can spend up to 6 days a week coaching so there's a lot of travel involved as I go as far as Cheshire and cover many of the areas in between. I'm used to the travelling from my days as a jockey and it's worth it when you see your jockeys making progress and riding winners. I get as much as a buzz seeing them ride winner than riding one yourself. It's nice to be able to give something back and it's a great sense of achievement.
How have you developed as a Jockey Coach?
I'm quite a quiet person and didn't find approaching people that easy but the coaching has really brought me out of myself and I've definitely gained in confidence. I've really enjoyed the Level 3 qualification I've just gained and would like to progress and do my Level 4.
How do you combine your EWIO role with coaching?
As a jockey coach, I'm self employed so by doing the Equine Welfare Integrity Officer (EWIO) role as well, I feel more secure in terms of income and it fits nicely alongside the coaching. I'll probably end up doing about 185 days a year. I work in the sampling unit as well as working on different aspects of equine welfare, security and integrity. It's totally different from anything I've done before and I'm hoping I can progress my career from there. I've worked for 30 years in racing and my experience definitely helps in the role and I enjoy working on the equine as well as the jockey side of welfare.
What career advice would you give to young jockeys riding today?
Racing can't be forever and very few make the top grade so you've always got to think about what's on the other side. Sometimes with the young kids, it's like banging your head against a wall but I've noticed that the ones who do engage with their coaches and the support system available are doing well. They're the ones that really want it and realise that, as athletes, they have to be totally professional.
January 2019