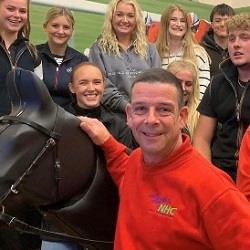 Lee Newton
- Training Instructor
Lee Newton rode as a Flat jockey for 13 years, riding around 150 winners before retiring from riding in 2002 after a fall left him considering his future and what to do next. During rehab, he started training for a second career in finance and he went on to work for both Coop and NatWest as a Financial Planning Manager before a change in family circumstances led him to set up as a Jockey's Agent with the likes of Robert Winston, Micky Fenton and Adrian Nicholls on his books. When a number of his jockeys retired, he decided to change direction and set up a successful window cleaning business but has now returned to work in racing after a chance encounter led him to a Training Instructor position at the National Horseracing College.
What is your role at the NHC and how did you find it?
I happened to bump into an old weighing room colleague of mine, Jason Edmunds, whilst watching our sons playing football. We got chatting about work and the National Horseracing College where his wife Claire is a Senior Training Instructor and suggested I should get in touch about possible instructing roles. I popped down and in June 2022 I started doing part time cover work. I really took to it, combining the instructing alongside the windows business, but then a full time position as a Training Instructor became available at the start of this year which I am now in.
What do you most enjoy about the role?
It's really satisfying seeing the 16 to 18 year olds coming in at the start of a twelve week foundation course very nervous and inexperienced and then seeing them grow and become more confident as they develop. There is such a mixture of people coming in with different backgrounds and some who've never sat on a horse before who, by the end of the course, turn out to be the most naturally gifted at riding.
What are the biggest challenges?
There is a lot of paperwork but I'm quite used to that from my time working for banks however one thing I've never done before is deliver lectures. The course is roughly 70% practical and 30% classroom based so that has been a steep learning curve for me having to deliver lessons to a class of students but it's getting easier every week.
What is it like working in the racing industry again?
I'm really enjoying being part of a team after so long being self employed and having that daily interaction with other people. I also love being back working around horses again.
How have JETS supported you in your second career?
They have always been there whenever I've needed them. When I first started out after riding, they helped me research different career options and the prizemoney from the Richard Davis Awards helped me set up my home office. Now again, they are helping me as I gain new qualifications to help me with my instructing. I have just completed by Level 3 in Racehorse Care and Management and hopefully they will support me too as I gain the teaching qualifications I need to build on the Level 1 Coaching qualification I've already got.
What advice would you give to jockeys considering their future careers now?
I would say that the biggest obstacle for jockeys is thinking 'What am I going to do now?' but I would encourage them not to worry because I have done a number of different things and have been able to be successful in them all. You just have to give things a go.
February 2023