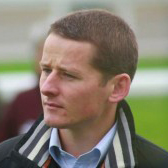 Tom Malone
- Bloodstock Agent
Tom Malone enjoyed an 11 year career as a Jump Jockey with 70 winners including 6 Cheltenham winners. He bought his first horse Milton des Bieffes when he was still riding and subsequently rode him to three wins. He combined his careers for around two years before setting up Tom Malone Bloodstock and establishing himself as a very successful bloodstock agent with some astute purchases including, most notably, Champion Chase winner Dodging Bullets and high class flat performer Caspar Netscher.
How did you make the transition from jockey to bloodstock agent?
Since the very first day I started riding, I was always thinking of the next step. I found my limit as a jockey so I made sure I was thinking ahead and started buying horses towards the end of my riding career. I wanted to be able to ride them too and I realised that I was really enjoying buying the horses. The first three years was hard work, I was working long hours but before I knew it, things had really taken off and I was up and running. I've bought a lot of horses in particular for Lucinda Russell, Tim Vaughan, Jamie Snowden and Paul Nicholls. I didn't really know I had a business to begin with but once I did, I wasn't going to let it go.
What skills as a jockey have you bought to your new career?
I was a sales person at heart, you have to be as a jockey so that helped and I love horses. The biggest key though has been able to ride the horses that I buy. That has given me a good angle and an added advantage as an agent and it works because until you sit on a horse, you might not spot something you'd see just by looking at it. I think most people use me as I work extremely hard to find the best horse possible for their budget.
What do you most enjoy about your job?
I love the fact that no day is the same. I buy 160-180 horses a year and already looked at 1200 since January. No matter where you go, you're looking out for new horses and you never know where the next Champion is going to come from.
What ambitions have you got for your business?
I just want to keep on buying quality animals. I had 267 winners in 2014 and have established a reputation for buying winners and now it's about finding those Grade 1 winners to add to the ones I've already had such as Dodging Bullets, Brindisi Breeze and Irving. I've bought store horses, horses from the sales, breeze ups or like Dodging Bullets, off the flat.
What advice would you have for jockeys thinking about their future careers?
When I was riding, most jockeys simply weren't thinking about their next step. I hope that's not the case now and more of the lads are looking ahead because it's absolute rubbish to say that if you're thinking about your next career then you can't be focused on your riding, it's actually healthy because it gives you something else to think about rather than just sitting on an xbox! It's a lonely place to be if you stop riding at the age of 35 and have to start something from scratch whereas I'm 32 now and have an established business. If anyone is considering a career as a bloodstock agent I would recommend that they become an understudy to an agent. I didn't and I wish I had because I've just had to learn by trial and error and teach myself along the way.
What support did you receive from JETS?
Lisa has always been there to help. JETS provided me with media training and helped me find someone when I needed French lessons. The fact that the training you get is free, so why wouldn't you take advantage of JETS!
March 2015