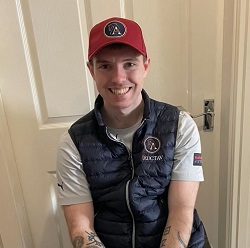 Jacob Pritchard Webb
- Bloodstock & Media
Jacob Pritchard Webb was one of the up and coming Conditional jockeys in France when a fall at Auteuil in June 2020 unfortunately ended his riding career aged 23 and left him paraplegic. However, within two years Jacob is busier than ever as he combines his pursuit of sporting success as a Team GB table tennis player with a dual career working as the UK & Ireland representative for Auctav and as a pundit on Sky Racing.
How did you decide which direction to take your career after your riding was cut short?
I hadn't really given much thought about what I would do after riding but had hoped to travel and ride in lots of different countries and my grandparents had a farm so I always thought I would end up working there but obviously that came to a big halt after my accident. However, I had always been interested in bloodstock. Riding for Emmanuel Clayeux where there were many very well bred horses related to some of the big names really sparked my interest in pedigrees and I had worked with horses all my life so it made sense to carry on in that area.
How did you progress your career both in the bloodstock and media world?
Through the article in the Racing Post, I was offered some shadowing work for both Anthony Bromley and Anthony Stroud and I still do some shadowing with Highflyer Bloodstock which has taught me a great deal. The Auctav role came about from a bloodstock agent contact I had made in France and now I have a flexible role as their UK and Irish representative promoting their brand in both countries. I'm off to France next week to meet the team and we're looking forward to doing the first live sales at their base in Normandy in August.
The trainer Jo Hughes had suggested that I had some good skills for TV with my knowledge of French racing and arranged a meeting with Luke Harvey which has led me to working with the Sky Racing team on their French racing coverage. The team have been great at easing me in and working out where my strengths lie and who I work well with and I'm really enjoying it.
How did JETS support you?
When I came back to England after 6 months in France to continue my rehab, I met Lisa at Oaksey House. She was very sensitive to not pushing me too hard on what I wanted to do so soon after my accident but she took on board my ideas and we discussed work placements and she helped me get the ball rolling with media training which was incredibly useful for my work on Sky Racing now. In fact I don't think I'd have the confidence to do the role without that training (with Chamberlin Sport & Lydia Hislop) behind me.
How did you get into table tennis?
Initially, I started playing as part of my rehab, not so much for the physical side but more for the mental stimulation and the joy of playing. After 6 months I could beat most of the rehab guys who were standing up and they said I should try and take it further. When I was back in the UK I approached British Para Table Tennis. I met with their Pathway Coach and was invited to train at Sheffield and it really took off from there. I have attended a training camp in Slovenia and hope to take part in my first competition later this year as part of their Pathway Squad.
What are you most enjoying about your new career?
It's been great staying in touch with French racing. I really want to play a part in promoting it, the racing is quite different and I've enjoyed trying to get that across and sharing my insights. With the table tennis it's been fantastic to be able to be on a pathway with clear targets to aim for. I will be delighted if I can make Paris 2024 but otherwise I'm aiming to compete in the major games after that leading up to Los Angeles in 2028, including the Commonwealth where as a proud Welshman I'd love to represent my country.
What skills as a jockey have helped you in your new career?
Connections I've made have stood me in good stead, being known on both sides of Channel and having had jockey experience, we can spot things on TV that happen in a race that others can't. Also being a sportsman in one sport has meant that you don't settle for anything less than perfection and that 'drive to win' attitude has definitely transferred across to table tennis.
How has the accident changed your approach to your career?
One thing the accident has taught me is that things happen for a reason so when I meet setbacks, I look at it that maybe it wasn't meant to be. Also I would say the media training I've had and the profile I've been given has made me more outgoing and I definitely have more fire in my belly than before. When I was riding I was never that fussed about proving myself, I was young and fit and that was it but now I'm faced with lots of barriers I'm more stubborn and don't want anything to stop me. I would also like to use my position to improve racing's accessibility for wheelchair users.
How are you feeling about the future?
I've got to be happy with how things have gone in less than two years since the accident, I'm really happy with the doors I've managed to open myself and doors other people have helped to open for which I'm very grateful. I've made the most of the opportunities and now I would like to be successful not only in table tennis but also gain more TV presenting opportunities in France and help find a Group 1 winner at the sales.
Having had the experiences you've had, what advice would you give to jockeys riding now?
I'd definitely look at what other avenues of training you could set up via JETS but also, don't be afraid to change something if you're not where you want to be in life. Don't let things just become stale. Going to France was the best decision of my life. Yes I ended up breaking by back there but all the people I met there and the experiences I had has led me to better things and the connections I've made have led me to being busier now than when I was riding.