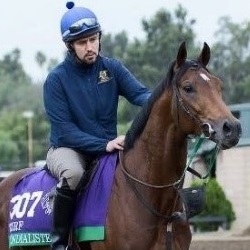 Fearghal Davis
- Work Rider & Driver
After riding 99 winners under rules, former jump jockey Fearghal Davis has built a successful career working for leading, northern trainer and former Jump jockey David O'Meara. He gets to travel with the finest racehorses all around the world, to some of the biggest, most prestigious race meetings.
Why did you decide to retire from race riding?
I retired from race riding as in the end I couldn't afford to make it pay. Added to that, I am a big lad and managing my weight was becoming harder and harder with the less I was riding.
How did you come to work for David?
When Dave started training I used to ride a few of his jumpers and then I started dating a girl in the yard. I moved closer to his yard which enabled me to ride out more regularly and I just kind of fell into the job.
Did you prepare for a second career whilst riding or did it take a while to discover what you wanted to do?
I never saw myself not being a jockey, so I hadn't prepared for it at all. A good friend and fellow jockey, Alexander Voy, was selling personal health insurance and I went and tried that for a while. But I was always drawn back to the horses.
What was your best day in the saddle?
I was lucky enough to ride winners for top owners, such as J P McManus, Sir Robert Ogden and John Hales. My best day in the saddle came when I won the Grade One Finale Hurdle at Chepstow for Brian Ellison, on a horse called Marsh Warbler. It is a big thing for a northern Jump jockey to even ride in a Grade One so to win one was pretty special.
What is your current role and what do you enjoy most about it?
I drive the two staller horsebox up and down the country to the races, as well as looking after Dave's international runners. I get to travel plenty and obviously it's fantastic to get paid to see a lot of the world. The buzz I get when one of then wins a Group One is indescribable, it's when all the hard work at home is made worthwhile.
Have you found your experience as a jockey useful in your new role?
When you're a jockey it is almost as important how you conduct yourself and the way you speak to owners, as your riding. Having had the experience as a jockey I now feel confident speaking to new owners that I have never met before, whereas before I might not have had that confidence.
What advice would you give to young jockeys starting out today?
My advice to young jockeys starting today is to keep your head down, work hard and listen to everyone who is offering you advice. Even the smallest thing can help.