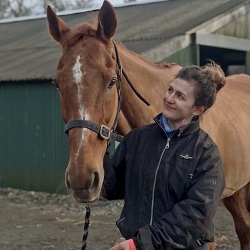 Rachael McDonald
- Lecturer (dual career)
Rachael McDonald began her riding career as an Amateur riding in point to points and for trainers Lucinda Russell and Sandy Thompson in the Scottish Borders. She turned Conditional in 2017 and is now based at James Ewart's yard in Dumfriesshire which she combines with a teaching role which she began in October 2020 at Scotland's Rural College (SRUC).
How did your role at the SRUC come about?
Despite having a good summer last summer, I was ready to try something new which I could do alongside my riding. In August I started the new BHA Level 4 Staff Management and Recruitment in Racing Course and then applied for the SRUC job which is two days a week so I can combine it with riding. The course is run in partnership with the Scottish Racing Academy (SRA) and I teach a group of students who've never worked in racing and we cover the racehorse care and industry learning.
What have been the main challenges starting this role during the Covid pandemic?
I've had to plan all my lessons and deliver them via Microsoft teams and have had to learn lots of new skills such as creating videos. It's been a massive learning curve for me and a real challenge, involving a lot of late nights! The SRA have been a great support though, in particular Eleanor Boden who has done so much, mentoring me through the BHA course and lesson planning.
What aspects of the role have you most enjoyed?
I've really enjoyed showing students new things, a lot of aspects of a racing yard they have never experienced before so explaining to them about wind operations for example has been fairly mind blowing for them. I have found it really rewarding seeing the students coming out of their shells and asking questions.
How have you managed to combine your two careers?
I think it's worked well being a jockey who has worked my way through yard positions. I've gained a lot of experience in different roles and this has meant I've been able to give useful insight into the different aspects of racing to the students. Whilst I thoroughly enjoy both careers, it has been hard to juggle and over the course of the next year, I plan to end up teaching full time and fade out the riding. I'm 29 now and I've loved racing but I really want to be able to put my all into college.
What ambitions do you have for the future?
This is a brand new role I have at the SRUC so I really want to do all I can to make the course successful and give young people the opportunity to work in racing. It would be great to see the students go on and achieve bigger and better things.