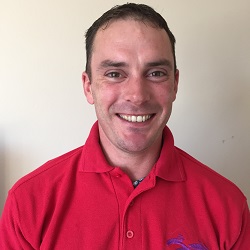 Trotter Nicholls
- Racehorse Trainer
Adrian 'Trotter' Nicholls enjoyed a 19 year career as a Flat jockey riding over 600 winners including Group 1 success aboard Regal Parade. He retired in spring 2016, a decision that wasn't easy but one he'd been thinking about for some time as opportunities were drying up. With funding from JETS he had completed an Education & Training course at York College and then got a job as a part time instructor at the Northern Racing College. He then did his
What were the factors that led to your retirement?
I had been riding winters in Bahrain and Qatar and had been successful but my wife had just started a livery yard business and with two children, it was putting a lot of stress on them being away. I decided to spend last winter in the UK but I just couldn't get many rides. With small field sizes and lots of jockeys competing for rides, obviously the guys that had stuck around before were getting more rides and I found I was riding out just to pay the mortgage, not to get rides. I was being supported by Mark Johnston and my dad (David Nicholls) but racing is a cut-throat world and people won't give you the opportunities just because you used to do well. I had done my Education & Training course over the winter and I then got offered a part time role at the Northern Racing College. I had to look at the bigger picture and realised there was more to life.
How did you feel about retirement?
To be honest, I had been very down last winter, working hard and not getting much out of it. I was in a downward spiral when my attitude was affecting my performance and then I wasn't getting the rides which made me more unhappy. I didn't want to give up but when I got offered the job, it came at the right time. I'd achieved what I wanted to and no disrespect to those that do it, but I knew I hadn't got the right mentality to travel up and down the country for a ride here or there. I was 34 years old with two children and I didn't want to miss out on them. I sat back and looked at myself and realised I had to put my family first. I feel much happier now than I did for the last year and a half I was riding.
How did JETS help you?
I first approached Lisa about 3 years ago, I knew I had to start thinking about my future but I didn't really have a clue. JETS has supported me throughout and paid for my courses. I don't think you'd find many other professions where that kind of support is available, they basically have held my hand each step of the way. I'd left school when I was 14 so going to York College was nothing like anything I'd ever done before but I actually got a real buzz out of it and I passed!
Were you worried what others in the weighing room might think?
There can be a bit of stigma attached to focusing on things outside of racing but I'd seen the stuff coming through from JETS and realised that even the top jockeys were retiring and doing something else, nobody can be a jockey forever even the best. You have to think of yourself, it doesn't matter what anyone else thinks, you have to stand on your own two feet and make things happen.
What career advice would you give young jockeys starting out now?
I wouldn't wait until you're on your arse before you start looking for help. The support is there so why not get ahead of the game and use the down time in winter to do the courses. Don't just waste time going to the pub, I wish I'd trained earlier so I wasn't playing catch up at the end of my career trying to get the right qualifications to prepare me for my next steps.
How has your experience as a jockey helped in your second career?
I have 20+ years of experience in racing which I can use to help young lads starting out avoid doing some of the things I did. I did a lot of things wrong, acting an idiot and messing with my weight. I wish I could go back and grab myself as a 20 year old and make me realise what I've got and to seize every opportunity, invest money properly and present myself professionally, instead of going around in my Gucci shoes thinking I had a god given right to be a jockey!!