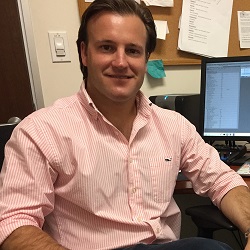 Nick Carter
- Producer/Editor (TVG Racing Channel)
Nick Carter started out his riding career in 2000 as an Apprentice with Reg Hollingshead before weight issues meant he switched to the Jumps riding as a Conditional for Paul Nicholls among others until 2007. He enjoyed a few winners but as he found opportunities drying out, he took up a job in the US working as a jockey and work rider for another three seasons before deciding that he wanted to pursue a career in media. With the help of funding from JETS he retrained, working his way up before finally gaining his dream job last year working for the American racing channel TVG, based in California.
Describe how you ended up working in the US?
I knew I was never going to hit the top and wasn't making a great living so I wasn't walking away from much. I applied for a job advertised in the Racing Post for a jockey in Virginia. I did return to the UK for a season but then went back out to the US in 2008 to work full time with a work visa. I took the skills I did have and used them so I could travel.
How did you use JETS to support your new career choice?
When I realised that I didn't want to continue being a jockey, I called Lisa and explained I would like to get into the media. I had already done some media training with JETS and they part-funded an intensive 6 month media training course at a Broadcasting College in Baltimore. I qualified in 2010 with a Diploma in TV Production. It was the kick start I needed. I had met Lisa a few times when I was feeling a bit lost and she was a great help.
How did you combine your racing job and your fledgling media career?
I was living in Maryland and approached the BBC in Washington D.C. where I got an internship working for BBC World News. I used to ride out in the mornings at Laurel Park, starting at 6am. By 8am I had ridden 8 horses, getting $15 per ride. I'd then get on a train to Washington DC in 40 minutes and worked as an Assistant Video Editor in the afternoons, creating packages for the team there.
How did you career develop from there?
I met a documentary film maker in Maryland and gradually worked my way up to Producer and even managed to make a film about Maryland Racing. I worked on 3 or 4 documentaries producing, casting, finding places to shoot. It was a great experience but by this time I had given up riding, got married and got my green card so I needed to stop freelancing and find a more stable, full time position. I had been trying to get jobs out in California for a long time but it was very competitive. I had applied for various positions at TVG with no joy but finally they approached me via LinkedIn offering a position of Producer Editor which I started in October last year, based in Los Angeles.
What do you most enjoy about your new career?
I love the creative aspect of my job. It's like being given all the pieces of a jigsaw in terms of visuals, music, voiceover and making them fit. Sometimes I can write a concept from scratch and seeing the end result is really satisfying. Sometimes I have to pinch myself that I'm doing this job as TVG has a monopoly on racing coverage so it really was the be all and end all to end up working for them.
What advice would you give jockeys who want to follow their dream career after racing?
Don't give up. It hasn't been easy moving country and starting out on my own. I've met some wonderful people and essentially it's all been about making contacts and making the most of them. If you really want to do something, you have to really focus on it and you can achieve your goals.