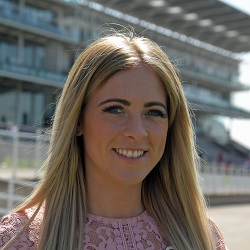 Sammy Jo Bell
- Racecourse Marketing Assistant
Sammy Jo rode 82 winners in her career as a Flat jockey, most notably winning the Silver Saddle prize for the top rider at Ascot's Shergar Cup. She sustained a serious injury in May 2016, spending 10 months in rehab, but despite making a successful comeback she decided to retire from riding as she didn't feel she was making enough progress. Whilst riding she did a number of media training courses through JETS and this helped her secure a temporary position at York Racecourse as a Marketing Assistant which she is doing alongside an online Marketing foundation course.
What factors did you consider when deciding to retire from riding?
It was a difficult decision, being a jockey isn't just a job it's a life and I had to weigh up whether I was getting as much out of it as I was putting in. I had come back from my injury as fit as ever and the team at Jack Berry House were a very important part of that. I had a chat with my boss Richard Fahey and my Jockey coach Kevin Darley and even though I rode 17 winners that season I'm an 'all or nothing' person and I decided, I had to be realistic and my career wasn't where I wanted it to be. I want to do really well in a second career so I thought the sooner I got started the better chance I would have.
How did you prepare yourself for a second career?
I knew I wanted to carry on working in racing and I kept an eye on the JETS and Careersinracing Job Boards. I'd seen a marketing job advertised at York and although I didn't have any specific marketing experience I felt that I had developed skills as a jockey that would help me plus the media training had helped give me confidence in terms of my communication skills and how to present myself. Phil at JETS helped me prepare my CV and do some interview practice which was really useful as it felt quite daunting trying to get a job in the real world!
What skills as a jockey do you think you bring to your role now?
As a jockey, I had to be organised, committed and prepared to make sacrifices. I don't feel I slacked, often working 7 days a week. Plus I'm quite a bubbly person and always enjoyed chatting to owners and other people I met racing. I didn't really think about it at the time but these are all skills that are very transferable to other jobs and can stand out on your CV. My media training has also been extremely useful in the work I've been doing for William Hill TV and appearing on The Opening Show for ITV. I was also given the opportunity to surprise and delight hospitality guests by reviewing the card ahead of racing and hosting them in the parade ring which again the media training gave me the confidence to do.
My knowledge of racing has also been beneficial at York when assisting with Race Analysis and preparing race descriptions for the race cards.
What advice would you give to young jockeys riding now?
I think they need to remember that being able to ride well is not the full jockey skillset, communication skills and commitment are also required. If you don't have these, you need to try and develop them as this will help you not just in your career as a jockey but also in your second career. Going back to college didn't appeal to me but there are so many courses you can do and I would encourage jockeys to do them. My partner Phil Makin is also a jockey and has benefited from JETS as he has got his HGV licence now which will be really useful.
What are you enjoying most about your new role and what are the challenges?
I am really enjoying getting a feel for another side of racing, there is so much that goes into organising a raceday that I had no idea about and the team at York have been great at giving me a chance to experience so many different aspects of the racecourse and meeting lots of new people. One aspect of my role I most enjoy is organising the sponsors day from the operational side such as dispatching badges to then seeing them in the parade ring enjoying their day.
The most challenging part has been having to concentrate so hard with so much to take in and learn. As a jockey you work long hours but it's just one routine that doesn't really change much whereas at the Racecourse the role is very varied and therefore requires a lot of concentration and plate spinning, but I am very much relishing the challenges.
How are you feeling about the future?
I'm really glad I took the decision to stop riding. I'm ready for new experiences and I'm confident I will do well in passing the marketing course. I'm at York until October and I'm getting so much great experience which will help me work out what aspect I most enjoy. I'm also keen to do some more media work and will definitely continue to use JETS, perhaps aiming for my NVQ Level 3 which would be useful if I want to go back into a yard environment at any stage. I'm a versatile person and I'm looking forward to the future.
July 2018