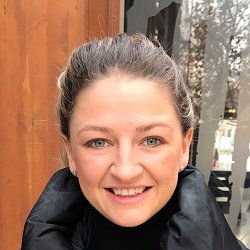 Emma Sayer
- Pupil Assistant Trainer
Emma Sayer rode 25 winners as an Apprentice and Conditional jockey before reverting to Amateur status. She heads to Graham Motion's yard in Florida in February 2019 and then will return to the USA in the Autumn as winner of the Alex Scott Future Trainers Travel Scholarship. After fracturing her neck riding at Cartmel, Emma was in rehab at Jack Berry House where she met with Phil to discuss career progress. She was initially hesitant about applying for the scholarship but he gave her the boost she needed and she is now looking forward to an exciting year as she progresses towards becoming a trainer.
Why have you decided to pursue a career as a racehorse trainer?
I did initially get a degree in teaching but when I reflected on going to school every day, I quickly realised that teaching wasn't my future. My passion really was to stay in racing and be with horses. If I carried on being a teacher, I thought to myself I'm going to be bored whereas training horses is a way of life.
What led you to applying for the Alex Scott Trainers Travel Scholarship?
I had been thinking about applying but it was really only after meeting with Phil, who persuaded me that I'd regret it if I didn't, that I went for it. I went down to London for the interview and it really opened my eyes to the opportunity that was there. I met with Harry Dunlop and Rupert Arnold from the NTF and they said that whilst I was lacking experience, my enthusiasm and ambition really shone through.
What aspect of the traineeship are you most looking forward to?
Having worked alongside my Mum (Dianne Sayer in Cumbria) as a trainer, I learned a lot about what goes on when you're not on horseback and I started paying much more attention to the feeding regime, the daily alterations you have to make as a trainer. It's that side of things I'm interested in learning more about and how Graham Motion operates his stable as a business dealing with staff, HR, owners and how he oversees that as well as managing the racing as well. It's going to be an incredible experience and I can't wait to start.
What are your ambitions for the future?
As well as the two placements overseas, my aim is complete my trainers modules by this time next year. By winning the scholarship I hope to work towards a more definite timescale and target rather than working towards something I wasn't quite sure of.
How has JETS helped you?
I have had great support from Phil, without JETS I wouldn't have had the clarity and drive to achieve my next goals. JETS provided support and advice when I really needed it. I am extremely grateful as it really has made a difference, giving me that clarity I needed in taking my career forward. JETS has helped me do various courses including an NVQ, trailer licence and trainers modules which has been such a big help when I've been off injured with little income.
December 2018