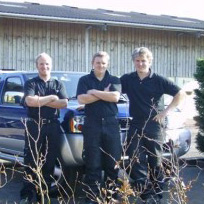 James Diment
- Landscape Design and Construction
James rode as a Jump Jockey from 2005 to 2009. On his retirement from riding, James took the initiative to approach JETS for help and always wishes he had done so earlier.
JETS HELP:
With JETS advice and grants, James was able to train in the operation of plant machinery and chainsaws, trailer towing and First Aid; as well as benefit from marketing training and career coaching with JETS.
THE RESULT:
James has been able to grow Ecological Landscape over the last three years into a thriving business, along with two other partners – his brother, Tom Diment and Keith Julier. The company has gained major contracts with racecourses and councils and James is keen to expand more into the equine industry.
COMMENTS:
James: "I knew I had to learn the basics and establish communications with people in the industry. The list of qualifications I had to acquire was endless and very daunting but I did manage to pass them all with flying colours. I love working in the business and we are very proud of our achievements which include helping to build a sound proof living willow fence barrier at Lingfield Racecourse and projects for the Malvern Hills Conservators."
November 2011