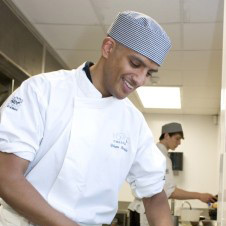 Gihan Arnolda
- Professional Chef
Gihan had over 200 rides as a Flat jockey from 1998 to 2009 and rode 6 winners before his riding career ended after he broke his pelvis in a bad race riding accident at Yarmouth.
JETS HELP:
Gihan turned to JETS for guidance on how to become a chef ( his second choice of career) and a JETS grant helped him to gain his Diploma in Professional Cookery at York College. He gained Distinction marks for all 3 years.
THE RESULT:
Gihan combined his training with work experience in a number of restaurants, including the Michelin-starred restaurant, Reads, in Kent and as Chef de Partie for the Royal York Hotel. He is now working under well-known chef, Michael Hjort (who himself trained with the Roux Brothers) at 'Meltons Too' restaurant in York. Gihan's career development efforts won him the Injured Jockeys Fund Progress Award in 2011.
COMMENTS:
Salvatore Petruso, Head of Division for Hospitality at York College: "Gihan has studied at with us for the last three years, progressing from Level 1 to Level 3. He is an inspirational mature student who works to a very high level. Last year he played an integral role in the York College team that won through to the semi-finals of the prestigious Toque d'Or competition, which was a tremendous achievement. Gihan has an impressive work experience record and is a fantastic role model for other students."
Gihan: "I had always been passionate about food and my goal is to become a Head Chef at either 4 or 5 star hotels or in fine dining establishments. Hopefully, I am well on my way, with a huge thanks to JETS".
July 2012