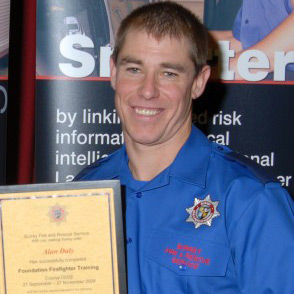 Alan Daly
- Firefighter with Surrey Fire & Rescue
Alan rode over 200 winners, from over 3500 rides from 1994 to 2009, before making the switch to become a Firefighter.
JETS HELP:
JETS helped identify and fund training courses for Alan which would put him in a position to apply for a job as a Firefighter, a long-held second ambition, after race riding. These included First Aid, Security and HGV qualifications. JETS also assisted Alan with job applications and interview coaching.
THE RESULT:
Alan was successful in gaining a highly-sought after place with the Fire Service and thoroughly enjoys his new role. His efforts won him JETS' Griffins Richard Davis Achievement Award in 2010.
COMMENTS:
Paul Crowther, Surrey Fire & Rescue Service: "By employing a former jockey, you know you are going to get someone who is dedicated and committed. The hours that they put in when racing are not dissimilar to The Fire Service which requires strange and long hours. We know Alan will always be on time and has the drive to work, without having to be prompted."
Alan: "I can honestly say that I wouldn't be where I am today without JETS".
July 2012