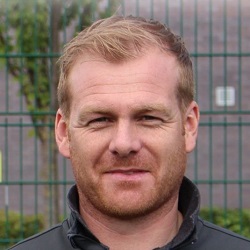 Robbie McCarthy
- Football Coach
Despite not coming from a racing background, Robbie McCarthy (35) got hooked on racing whilst still at school and rode as a Conditional and Amateur jockey for 16 years enjoying 300 rides under rules including at Cheltenham, Aintree and Punchestown Festivals. Following a series of injuries and with a family to consider, Robbie decided to retrain as a football coach and is currently doing his Level 3 UEFA B qualification, based in North Yorkshire, coaching at both Middlesbrough College and Teesside University.
How hard was it to let go of riding and find another career path?
I tried to pack up 3 times but finally stopped 3 years ago, mainly because I'd been injured so often and my wife told me enough was enough! I hadn't really thought much about what I was going to do. Part of it was a motivational thing, finding the direction and it's down to you to find the thing that fires you up like riding does. When I had my first big injury, Lisa from JETS was great at shining a light on the fact I might need to think about something else. It definitely took me a long time to think about what I wanted to do and break the mould of just being on the back of the horse. However when I had that lightbulb moment, it was great to have someone there to help you and give you direction. I owe Lisa a huge debt of gratitude.
What made you decide to pursue a career as a football coach?
Football has always been part of my family. I played semi pro football, my dad had coached and I had a cousin who played for Northern Ireland. When I was living in Lambourn, I had a friend who was coaching at Hungerford Town FC and he advised me to get my coaching badges. I did a bit of research online and spoke to JETS who provided me with some funding. I couldn't have done it without that as with pressures of a family I didn't have enough money put aside to help with retraining. I did my Level 1 and 2 in Wiltshire and now I'm based in the North, I'm doing my Level 3 with North Riding FA. It's that one that pushes you into professional clubs, it's really excited me and I'm so keen to keep moving up and try and get to the top.
How are you finding the balance between the training and earning an income?
It's been hard, a lot of coaching is voluntary and you have to put the man hours in so there is a strain on time but now I'm starting to work for the college and uni, the rewards are there as I'm getting paid. I've been riding out locally for John Dawson and then doing my coaching in the afternoons and also spent the summer working for Hambleton Racing.
What are the main challenges of the football coaching?
When you're a jockey it's all about you, how you push yourself but as a coach, there's much more of a team factor. You have to work out the best way to motivate the lads and convince them to do things in a certain way, that's definitely the biggest challenge. You have to consider tactics and the all round professionalism of the team focusing on areas such as strength and conditioning. It's been fascinating, you never look at a game of football in the same way again!
What skills as a jockey have you found helpful in your new career?
As a jockey, you spend your whole life trying to sell yourself, get rides and progress so when it comes to going for interviews I've found it quite easy as I've been comfortable speaking to so many people as a jockey. Those years of experience have helped me in my coaching and being confident in what I'm saying.
What are your ambitions for the future?
I just need to build up my CV with as much experience as possible. In my current jobs I'm working with different types of people who are highly qualified, ex professional footballers too which has helped me progress much more quickly. I've been offered the chance to go to the USA and do some coaching there which will give me a new aspect and culture to experience, something I didn't get to do as a jockey. Over here it's very competitive so I'm hoping by opening up more horizons and building up my CV, it will help me progress into Premier league football.
What advice would you give to young jockeys today?
I'd say you have to think of tomorrow. I can't recommend enough the importance of finding another interest, something that appeals and get on with it, especially if you have a family to think about. It's no good just having a tunnel vision as racing doesn't go on forever and JETS and Lisa are there to help.
December 2017